Organic Gardening for Everyone: Homegrown Vegetables Made Easy - No Experience Required! (Paperback)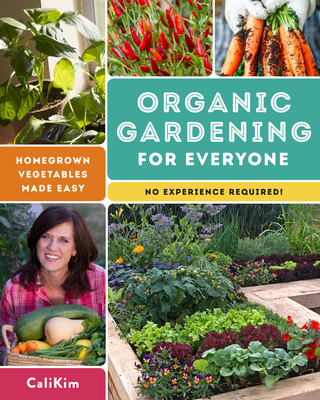 List Price: $24.99
Our Price: $22.99
(Save: $2.00 8%)
About the Author
---
CaliKim is an organic gardener, and helps gardeners all over the world learn how to grow their own food in a quick, simple, and inexpensive way through her YouTube channel, CaliKim Garden & Home, where she has over 250,000 subscribers and over 37 million views. Join CaliKim and her husband, Jerry, also known as CameraGuy, in their Southern California urban organic garden. They share garden how to's, tips, and healthy garden-to-table recipes. CaliKim loves to try new things in the garden, so there are always surprises along the way. She is a brand spokesperson for Smart Pots, frequent lecturer, and operates an online store through her website where she sells proprietary, branded garden products produced in joint ventures with major garden suppliers. She has written several self-published eBooks.
Praise For…
---
"...a nice step by step book that doesn't require you to have a 5 acre plot to have a nice garden."
- Little House Living
—
-
"...does a great job of reassuring new gardeners that yes, they can grow their own healthy produce!"
- Susan Mulvihill, Susan's In the Garden
—
-
"Her enthusiasm and passion for gardening and nature in general are evident in this book, as she encourages readers not to lose hope through the ups and downs of the process."
- Washington Gardener
—
-
We appreciate your continued support!
If you would like to make a donation to help us through CLICK HERE.