Doctor Houseplant: An Indispensable Guide to Keeping Your Houseplants Happy and Healthy (Hardcover)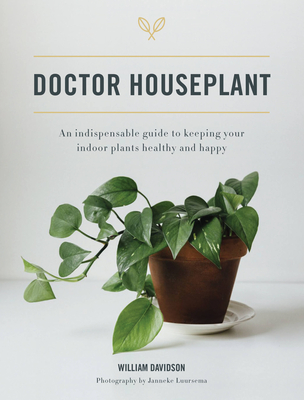 $19.99
This item is not currently available to order.
Description
---
This comprehensive guide to houseplants covers 42 of the most popular houseplants, with all the information you need to help them thrive.
Introduce gorgeous greenery into your apartment or home with houseplants. In addition to being affordable and easy to transport if you move, houseplants can instantly create a lively and inviting interior. You can start small and build a plant collection as your confidence grows.
To care for your collection, you'll need to take into consideration every plant's individual needs. While some plants are easy to care for—particularly cacti, succulents, and snake plants—some of the most spectacular may need a little extra love.
Doctor Houseplant provides all you need to know about the maintenance and care of your favorite houseplants. Each of the 42 plant profiles includes:
A general discussion of the plant's qualities and history
Different varieties of the plant and what distinguishes each
What to look for when purchasing
Ideal conditions
Common concerns

Nurture healthy, happy plants with techniques for:
Choosing and buying
Watering and feeding
Light and position
Potting and repotting
Dealing with pests and diseases
Solutions tailored by symptoms

Find complete growing guidance for: the urn plant, Chinese evergreen, anthurium, cast iron plant, azalea, begonia, bulbs and corms, cacti and succulents, peacock plant, spider plant, grape ivy, croton, cyclamen, umbrella plant, dumb cane, dracaena, poinsettia, ferns, ficus, mosaic plant, ivy, dwarf umbrella tree, herbs, wax plant, jasmine, swiss cheese plant, banana plant, orchid, palms, geranium, radiator plant, philodendron, Chinese money plant, snake plant, holiday cactus, devil's ivy, African hemp, peace lily, Madagascar jasmine, arrowhead vine, inch plant, and yucca cane.
With extensive care charts that serve as a vital reference tool, photographs of damaged leaves or flowers that help you identify specific problems, and photography showing the life and beauty that plants bring to a home, this guide is your key to thriving houseplants.
About the Author
---
William Davidson is one of the world's leading authorities on houseplants and has written extensively on the subject. He also lectures and broadcasts on radio and television in the United Kingdom and the United States.