Freestyle Bonsai: How to pot, grow, prune, and shape - Bend the rules of traditional bonsai (Hardcover)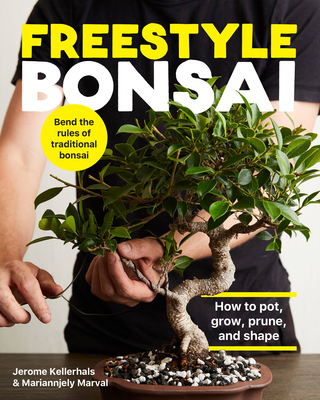 $25.99

Available in our Warehouse: Usually Ships in 3-8 Days
Description
---
Learn the tools and techniques of bonsai to get started potting, shaping, and caring for your own collection of tiny trees, all while learning it's okay to bend the rules along the way.
Though bonsai is steeped in ancient traditions and techniques, it doesn't have to be intimidating and difficult. A new generation of bonsai enthusiasts are discovering the joys of growing these miniaturized works of living art, and in Freestyle Bonsai, bonsai artists and growers Jerome and Mari Kellerhals of The Bonsai Supply show you how you, too, can grow beautiful bonsai trees without judgement or the stress of perfection. The art of bonsai is personal, and learning how to train trees to please you is the only thing that matters. While the history and tradition of the art is respected and honored throughout, Freestyle Bonsai is as much about giving you permission to bend the rules as it is about introducing you to them.
You'll learn:
Which tree species are the best for beginners
A breakdown of bonsai tools and how to use them
How to successfully pot a bonsai tree
Easy bonsai styling, including clipping, training, and wiring techniques
Care and maintenance tips for your bonsai collection
Step-by-step shaping instructions to create ten different bonsai styles

Whether your trees are grown indoors or out, bonsai is a relaxing hobby with gorgeous results. Like every other art form out there, bonsai comes from the heart. Live a #bonsailife with guidance and inspiration from Freestyle Bonsai.
About the Author
---
Jerome Kellerhals, born in Switzerland, has been around bonsai for as long as he can remember. His mom lived in Japan and was a big influence in his love for the art. However, it wasn't until he moved to the United States that he started studying it in depth. Suthin Sukosolvisi, Min Hsuan Lo, and Nacho Marin have influenced his work. He is known for being a creative "rule breaker." He created a unique piece using the technique "root over rock" but using a statue instead of a traditional rock. He called this tree Angkor, in honor of Angkor Wat, which he first visited as he traveled around China and Cambodia. This tree has been exhibited in many bonsai conventions in the USA and was selected for the display of the 2019 Epcot Flower and Garden Festival in Orlando, Florida. Over the years, Jerome has given bonsai demos for various corporate teams, bonsai clubs, and garden clubs. He also has taught beginner classes at his retail store for over 1,000 bonsai enthusiasts. Jerome has written multiple articles on tropical species of bonsai for the very popular Bonsai Focus magazine, recognized worldwide.
Mariannjely (Mari) Marval has an MBA in marketing. Mari and her husband, bonsai pro Jerome Kellerhals, own The Bonsai Supply, a bonsai retail location offering trees, supplies, and classes. Mari and Jerome can also be found at the helm of a great community of people curious about the art of bonsai and interested in being educated in it in a way that isn't bound by the many formal rules of traditional bonsai. Mari and Jerome host a popular YouTube channel, The Bonsai Supply, where they share bonsai tips for beginners. They have a large and loyal following and are very active across all social media outlets, building a worldwide bonsai community they call "the bonsai family."
Praise For…
---
..."an excellent, interesting book...not only filled with beautiful, informational pictures but all the information you need to get started and keep your bonsai alive."—Susan Bewley, Budget Earth