The Elegant and Edible Garden: Design a Dream Kitchen Garden to Fit Your Personality, Desires, and Lifestyle (Hardcover)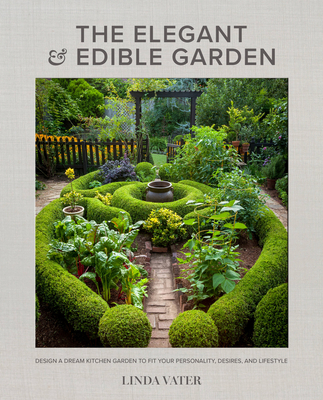 Description
---
Discover how to partner ornamental plants with edible ones for a garden that offers both storybook appeal and a plethora of culinary delights.
Stylish and celebratory,
The Elegant and Edible Garden
takes food growing to a higher plane. Host of The Potager Blog (@potagerblog)
,
author and garden stylist Linda Vater, shares her vision for
creating a garden space where food and flowers grow side by side
. Known as a
potager
, these gardens are formal in their framework yet flexible and personal in their edible yields. A potager garden is
both lovely to look at and productive
. Doubling as
an outdoor living area
, it is also the
perfect place to entertain family and friends
.
Inside you'll learn:  
How to grow flowers, fruits, veggies, and herbs together en masse
The function of symmetry in a potager garden
Ways to create visual harmony and match the style of the garden to its surroundings
Tips for blending your family's needs and lifestyle into the garden
Advice on how to utilize focal points and garden ornaments in your garden's layout
The importance of rhythm, repetition, and harmony in potager design
How to position garden structures with practicality and purpose in mind
Where to put your potager for not just convenience but also to create a destination
Best practices for growing your beautiful new garden organically
Create a garden that
rejoices in seasonality
while still allowing
your style and personality
to shine.
The Elegant and Edible Garden
is a vision of
the very best things a garden can offer
: food, beauty, connection, and a place to breathe.
About the Author
---
Linda Vater is a garden designer and stylist who writes and produces garden content for TV, magazines, social media, and her own website. She has lived and gardened at her 1935 English Tudor home in Oklahoma City for the past 30 years. Her garden has been featured in numerous magazines, including Southern Living, Victoria, Garden Gate, Oklahoma, Mother Earth News, and others. Linda has hosted a weekly gardening segment on Oklahoma's News 4 for 14 years. She also runs her own online television channel, Linda Vater TV, and has partnered with brands such as HGTV, Park Seed, the Home Depot, and the Southern Living Plant Collection. Linda's line of gardening products, the Linda Vater Signature Collection, will debut on QVC in the spring of 2021. 
Praise For…
---
"If I did it, so can you captures the essence of Linda Vater's new book The Elegant Edible Garden. Her insights will help you capture the romance, artistry, and experiential nature of your garden and garden living—at your own pace. Long-time fans of Linda's wildly popular Instagram account @potagerblog will love this book—as well as readers who get to know her through these pages." —Jim Peterson, Publisher GardenDesign.com

"Linda's thoughtful, practical approach to garden design helps make it less daunting and more doable. Her own garden is pure magic, and this very personal account of its evolution is filled with inspiration, completely relatable experiences, and advice that every gardener can use, whether you garden in inches or acres."—Kristin Beane Sullivan, Editor, Garden Gate magazine

"Linda Vater does it again. The inspirational content and endless charm that we know and love her for translate perfectly onto the page. We get a peek into Linda's garden like we've never quite seen before, and a detailed explanation of how she did it all - and how we can do it, too. This book is full of candid stories, gorgeous inspiration, and thorough garden design advice. It is a must-have for anyone who loves pretty things."—Katie Dubow, President, Garden Media Group and QVC guest host

"I have followed Linda and her work on Instagram and YouTube for several years. Linda is a gifted gardener, and I'm amazed by her style and garden. Her book is a treasure."—Claus Dalby, Danish gardening celebrity and author of Containers in the Garden

"Though we have worked with Linda for years, her work and her gardens continue to energize and inspire us, just as we know she does for many gardeners. In this book, Linda again demonstrates that our garden dreams are within reach. We can have a garden or landscape uniquely our own, growing joy as rich and flavorful as the plants we coax from the soil."—- Corrina Murray, Southern Living® Plant Collection

"Perhaps most importantly, Vater reminds us that the joy is in our gardening journeys and in the multifaceted beauty of the gardens we create and share with others."—Andrea Siegel, Washington Gardener

"Are you looking for the perfect gardening book to inspire you to create the perfect kitchen garden? If so, we think you will loveThe Elegant Edible Garden."—Susan Bewley, Budget Earth

"The book is beguiling and engaging from the first moment, with beautiful photography and useful illustrations throughout."—The Oklahoma City Sentinel

"...as The Elegant and Edible Garden illustrates, with a bow to necessity, it is possible to create the garden of our dreams..."—Connecticut Horticultural Society