The Beekeeper's Journal: An Illustrated Register for Your Beekeeping Adventures (Diary)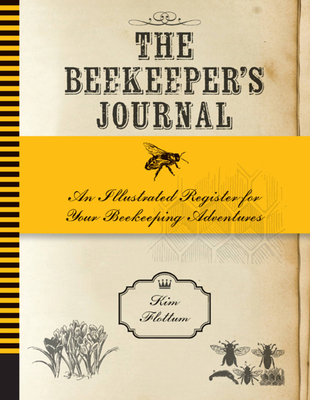 $21.99
This item is not currently available to order.
Description
---
Store your notes, journal entries, and daily beekeeping records, observations, and to-do lists within the pages of this beautiful and inspirational journal.

The Beekeeper's Journal will be right at home among your beekeeping supplies, because it's the perfect place to keep your thoughts, recipes, inspirations, sketches, and more. Photographs and illustrations on each spread complement the helpful tips, anecdotes, ideas, recipes, how-tos, and images from beekeeping expert, Kim Flottum.

This book is not only a useful tool, but the perfect keepsake for avid beekeepers; make your own beekeeping scrap book among it's beautifully illustrated pages!
About the Author
---
Kim Flottum brings a background of twelve years of plant science, honey bee research,  and basic farming to his thirty years as the editor of Bee Culture magazine where his main occupation is finding the answers to the multitude of questions that beginning, intermediate, and even advanced and experienced beekeepers bring to the table. He teaches beginning and advanced beekeeping courses, travels extensively to educate and lecture, and contributes to a variety of other publications on the basics of honey bees and beekeeping biology, the business of bees and pollination, producing and using varietal honeys, and a host of other subjects. His books, magazine articles, interviews, and blogs are widely read for both their fundamental and advanced contribution to beekeeping knowledge. His magazine platform gives voice to his social commentary on topics ranging from genetically modified foods to pesticide abuse to both good and bad government regulations in the industry. He is beekeeping's leading advocate for fundamental honey bee safety including insuring excellent honey bee health, providing extraordinary forage, and minimizing the use of agricultural pesticides.