The Easy Anti-Inflammatory Cookbook: Simple Recipes that Heal and Support Immune Health (New Shoe Press) (Paperback)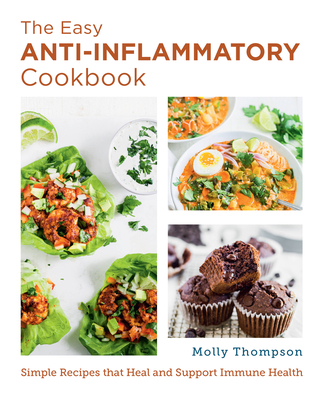 $16.99

Available in our Warehouse: Usually Ships in 3-8 Days
Description
---
Manage inflammation naturally with 100+ simple recipes.
Inflammatory reactions can have a debilitating effect on your daily life. Over time, inflammation can harm your organ functions, your energy levels, and your cognitive abilities—but most inflammation can be healed.
The Easy Anti-Inflammatory Cookbook
, adapted from Molly Thompson's
The Anti-Inflammatory Diet Made Simple
, is a collection of
easy-to-make recipes
with
simple ingredients
based on foods that are
scientifically proven to reduce inflammation
naturally.
The right food choices can return your body function to its most efficient and ultimately 
eliminate symptoms associated with inflammatory disorders, including:
digestive issues (leaky gut, bloating, gas, irritable bowel syndrome [IBS], constipation); headaches; hormone imbalances (irregular cycles, polycystic ovarian syndrome [PCOS]); autoimmune diseases (Hashimoto's disease, rheumatoid arthritis); skin issues (acne, psoriasis, eczema); mood disorders (anxiety, depression); trouble sleeping; and trouble losing weight.
Delicious, and ranging from snacks to dinners, the recipes included offer something for everyone
and 
introduce the staples of anti-inflammatory eating
. Alongside the recipes are details on why the foods included work. You can mix and match your own ingredients for custom meals that offer the power of inflammation-fighting leafy greens, fermented foods, and healthy fats high in Omega-3.
Bring relief to your plate with delicious recipes like:
Double Chocolate Banana Muffins
Sweet Potato Waffle Breakfast Sandwich
Blackened Chicken Tacos with Cilantro Lime Rice 
Chipotle Shrimp and Grits 
Kale Chorizo Artichoke Dip
Turkey-Sage Swedish Meatballs with Creamy Spinach Gravy
Roasted Carrot and Lentil Salad with Tahini Dressing
Golden Turmeric Honey Latte 
With the inflammation-fighting foods featured in these beginner-friendly recipes, you can:
Boost lifelong health
Reduce inflammation
Ease chronic pain
Gain more energy
Improve concentration
Eliminate headaches and skin conditions
Slow the aging process
And enjoy:  
Easy meal planning, including meal plans, shopping lists, and substitution variations
Simple, delicious, and hearty recipes featuring accessible and affordable ingredients
Anti-inflammatory know-how, with lists and details on the ins and outs of anti-inflammatory eating
About the Author
---
Molly Thompson is the founder of the popular website What Molly Made (whatmollymade.com), where she focuses on easy, healthy recipes that use natural ingredients, often fitting into special diets like gluten free, paleo, or anti-inflammatory. Molly also shares her own personal story about living with PCOS on her blog, and how she uses an anti-inflammatory diet to reverse symptoms naturally. Her site also specializes in recipe development, professional food photography, and video production.