Grunt: Pigorian Chant from Snouto Domoinko de Silo (Hardcover)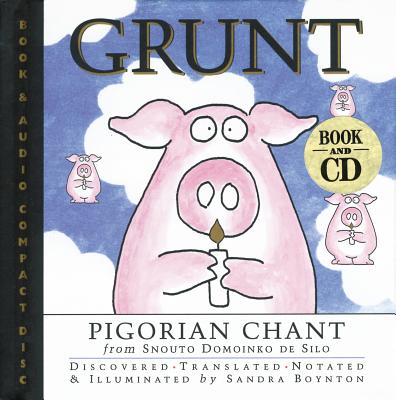 $12.05
This item is not currently available to order.
Description
---
A delightfully silly, good-natured parody of the recording phenomenon Chant and other works that put Gregorian music on the charts, Grunt is a book and CD set that combines Sandra Boynton's inimitable way with farm animals and a satirical sense that comes deliciously out of left barn.

In a far-off valley live the obeisant Domoinkan Pigs of Snouto Domoinko de Silo. Here, twelve times a day, these simple swine grunt the unadorned, ethereal music of Pigorian Chant (translation included). For occasions from the first mealtime (Op-slay ime-tay. Et's lay eat-ay. Um yay, um-yay.) to Nox Animaliae, when they're joined by all the animals in a harmony that dates back before the time of Caesar Hogustus, the pigs chant.

Listen, look at Sandra Boynton's delicious illustrations, and laugh. It's what to play whenever you're feeling disgruntled.
About the Author
---
Sandra Boynton is a popular American cartoonist, children's author, songwriter, producer, and director. Since 1974, Boynton has written and illustrated over sixty children's books and seven general audience books, including five New York Times bestsellers. More than 70 million of her books have been sold, "mostly to friends and family," she says. She has also written (with Michael Ford) and produced six albums of renegade children's music. Three of her albums have been certified Gold (over 500,000 copies sold), and Philadelphia Chickens, nominated for a Grammy, has gone Platinum (over 1 million copies sold). Boynton has also directed twelve music videos of her songs, including the award-winning "One Shoe Blues" starring B.B. King, "Alligator Stroll" starring Josh Turner, and "Tyrannosaurus Funk" (animation) sung by Samuel L. Jackson. She lives in rural New England, and her studio is in a barn with perhaps the only hippopotamus weathervane in America.