Paint-Your-Own Sugar Skull: With Gems and Glitter! (RP Minis) (Paperback)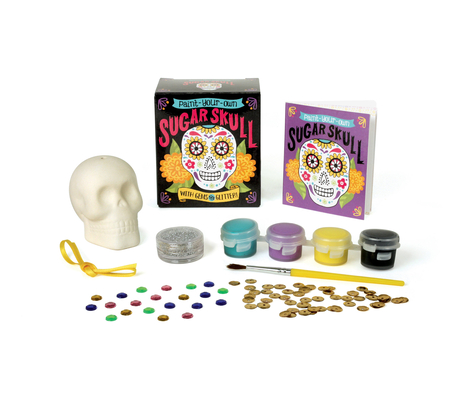 Description
---
Everything you need to paint and decorate a mini sugar skull.
The art of making sugar skulls to honor departed loved ones has been a long-standing tradition of
Diá/i>de los Muertos or Day of the Dead. Sugar skulls are traditionally made from sugar, but this one is ceramic so you can paint it! Mini kit includes:


Mini-size sugar skull
4 pots of paint (teal, purple, yellow, black)
Paintbrush
Gemstones
Sequins
1 pot of glitter
Yellow ribbon (for hanging your skull)
32-page illustrated book on the history of sugar skulls and how to decorate your own

About the Author
---
T.L. Bonaddio is a writer, artist, and full-time book lover, with experience as an editor in children's & gift book publishing. She earned a BFA in Printmaking/Book Arts from The University of the Arts in Philadelphia. Having trained all of her life to "make stuff," she wrote Stick It!: 99 D.I.Y. Duct Tape Projects and continues to focus on creating books for children and teens. She grew up in Scranton, PA, and currently resides in Philly.