I'll Be Home for Christmas Movies: The Deck the Hallmark Podcast's Guide to Your Holiday TV Obsession (Paperback)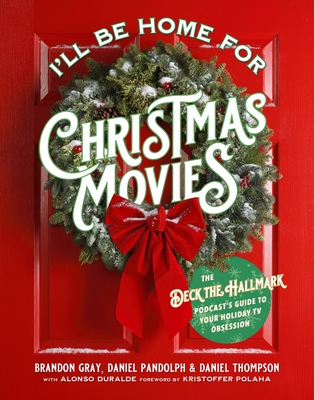 $22.99

Available in our Warehouse: Usually Ships in 3-8 Days
Description
---
I'll Be Home for Christmas Movies is the unofficial fan guide to Hallmark holiday movies, from the creators of the wildly popular Deck the Hallmark podcast.
 Hosts and best friends Brandon Gray, Daniel "Panda" Pandolph, and Dan Thompson share reviews that make you feel like you're watching these holiday favorites with your best buds, discussing warm Christmas feelings and absolutely bonkers plot twists with equal enthusiasm. And thanks to original interviews with the movies' stars and creators, fans will find out insider information on the making of the movies and learn answers to pressing questions: Why do the lead characters keep coming down with amnesia? Why do so many female stock brokers and lawyers find themselves forced to plan parties? And do all of the stories take place within something called the "Kennyverse"?

To complete the perfect Christmas package, the book is also chock-full of ideas for hosting your own holiday movie-watching party, complete with delicious recipes. Featuring dozens of full-color photos throughout, I'll Be Home for Christmas Movies is as cozy and sparkly as the movies themselves.
About the Author
---
Brandon Gray, Daniel Pandolph, and Daniel Thompson are three dads from South Carolina and the hosts of Deck the Hallmark, a podcast that has been ranked in Apple Podcast's Top 15 overall and Top 5 Comedy. Within the first year, the program received one million downloads and was featured on Good Morning, America and Nightline, and in the pages of O, Southern Living, Cosmopolitan, and Esquire.

Alonso Duralde is reviews editor at TheWrap and author of Have Yourself a Movie Little Christmas and 101 Must-See Movies for Gay Men. He is the co-host of the Linoleum Knife, Who Shot Ya? and Breakfast All Day podcasts, and has discussed film on CNN, PBS, TCM, ABC and FilmStruck, as well as in numerous documentaries.
Praise For…
---
"It's not Christmas without Hallmark Christmas movies, as the guys behind the Deck the Hallmark podcast know… This cheeky guide will please fans of this beloved film genre."—Booklist

"With a dynamic and charisma that results in pure fun, these boys bring us all things compelling about the world we all love so much... So buckle up for all the warm and fuzzies, cause not since Harry, Ron and Hermione has there been a better literary triumvirate."—Tyler Hynes, Actor, Hallmark Channel

"The MacArthur Foundation owes these guys a Genius Grant or two for making Christmas a much funnier time of year with this book. The three best Wise Men to ever kick off Christmas, they make the season brighter for everybody."—Jonathan Shapiro, TV Writer/Producer - Goliath, The Blacklist, and more

"It is a comprehensive guide to all things Hallmark Christmas movies, but even more than that, it is a reminder of the spirit of the season and what it means to feel at home."—Jacks, Host of "Hallmark Channel' The Bubbly Sesh" Podcast

"Christmas isn't just a season, or even a celebration of faith. It's a lifestyle, an identity. And no one understands that better than these guys. If you always have some holly hanging in your heart, you've found the perfect book."—Jesse Thorn, owner and founder of the Maximum Fun podcast network, host of the podcasts Judge John Hodgman and Jordan, Jesse, Go! and NPR's Bullseye

"Bran, Dan and Panda have your back…Your gateway Hallmark Christmas movie is out there, and they'll help you find it, or at least make you laugh as you keep looking."—Dave Holmes, author of Party of One

"This book gave me all the feels! It's not just for lovers or haters of HCM's. It's also the heartwarming & hilarious tale of old friends who recorded a podcast for fun but ended up becoming, successful busy business boys. I hope this book goes viral…and ends up in everyone's stocking this year. I can't wait for the sequel."—Jen Kirkman, NY Times bestselling author of I Can Barely Take Care of Myself

"Fellow Christmas-in-April people, I'll Be Home For Christmas Movies is a year-round tradition to add your nice list. Filled with Bran, Dan and Panda's signature blend of sincerity and sarcasm, wit and wryness, cheer and cynicism, this book is essential reading for any fan of Hallmark Channel's Christmas movies, preferably with a hot cocoa with extra marshmallows in hand."
 —Tierney Bricker, E! News

"A funny, affectionate coffee-table book that TV movie lovers, especially Hallmark Christmas movie devotees, will enjoy and want to refer to again and again."—Rosellen Brewer, Sno-Isle Libraries

"Not only did I thoroughly enjoy every aspect of the book, Gray, Pandolph and Thompson have gained a new fan in me — I'll definitely be tuning in to their podcast this season." —Amy Mistretta, Soaps.com