The High Skies Adventures of Blue Jay the Pirate (Hardcover)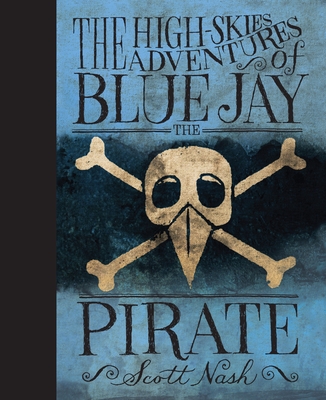 $19.79
This item is not currently available to order.
Fall '12 Kids List
---
"Join the crew of the pirate ship, Grosbeak, led by Blue Jay, their captain, as they sail through the sky. In the intricate and fascinating world that Nash has created, the pirates aboard the Grosbeak are all birds! In a story brimming with intrigue, suspense, and the perfect dash of humor, unforgettable characters abound. Hillary, a star-nosed mole; Henry, a brave sparrow; and Teach, the leader of a gang of treacherous crows will all come to play a part in the lives of Blue Jay and his crew. Beautifully detailed illustrations throughout the book make what is already an outstanding story a real treasure."
— Joyce Tiber, Next Chapter Bookshop, Mequon, WI
Description
---
Hoist the Jolly Robin! Fly with a swashbuckling crew as they soar through the air — and evade danger on the ground — in search of treasure and lofty adventure.

Captain Blue Jay, notorious and feared pirate of the skies, has a fondness for collecting treasure, especially eggs. Unfortunately, sometimes his treasure hatches, and this time the hatchling is the strangest one the Grosbeak has ever seen. No sailor is certain whether the chick is a young god or just an oversized bird who needs too much food, but one thing is clear: the winds over Thrushland are shifting, and dramatic changes are in store for all. Whether outwitting a gang of thieving crows, outrunning murderous fishers and weasels, or rallying Briarloch's beleaguered sparrows, this motley crew must do all they can to stay together and stay alive. And that's just the tip of the bird's feather! Offering a bounty of illustrations and a host of memorable characters — from an endearing star-nosed mole to an unlikely little warrior with a vendetta — here is a treasure for anyone who has ever wanted to take to the skies and see where fortune blows.
About the Author
---
Scott Nash has illustrated more than forty children's books, and now, inspired by his childhood readings of such classics as Treasure Island and Robinson Crusoe, his lifelong love of bird-watching, and an urge to take on a new challenge, he has created his most ambitious project to date, his first novel and his first foray into an entirely new and technically precise style of artwork. Scott Nash lives in Peaks Island, Maine.
Praise For…
---
Renowned illustrator Scott Nash's first novel features a tale of animals that succeeds in being both an original and a page-turner. The main characters are well developed, and the world in which they dwell is fantasy as its best. Nash vividly illustrates many of the characters and the action, which adds to the quality of the book. Fans of Brian Jacques' Redwall series will love this story.
—VOYA

A merry romp that is much enhanced by frequent formally drawn ink-and-color scenes of an airborne galleon and full-body portraits of birds posing in 17th-century costume. An imaginative premise...
—Kirkus Reviews

Referencing Robert Louis Stevenson and hearkening back to classic animal adventures of yore, this has the tone and style to appeal to thoughtful young readers; a coming-of-age element to gratify older ones; and drama, battles, and triumphs to entice the rest.
—Booklist

Readers should long remember the novel's endearing characters, which appear throughout in his gracefully integrated full color pen-and-ink art.
—Publishers Weekly online

This is an imaginative adventure of thievery and bravery in the high skies.
—Library Media Connection

A beautifully illustrated novel for readers ages 9 to 12 who relish scenes of stealth and swashbuckling.
—Wall Street Journal

This thrilling book should not be missed.
—BookPage