Children Growing Up with War (Hardcover)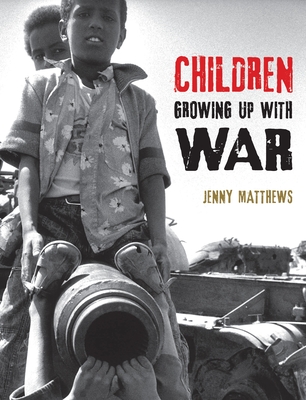 $19.79
This item is not currently available to order.
Description
---
Through personal narrative and candid photographs, a photojournalist chronicles young lives upended by violence and strife.

The right to adequate nutrition and medical care.
The right to free education.
The right to a name and nationality.
The right to affection, love, and understanding.

In conflict zones around the world, children are denied these and other basic rights. Follow photographer Jenny Matthews into refugee camps, overcrowded cities, damaged villages, clinics, and support centers where children and their families live, work, play, learn, heal, and try to survive the devastating impact of war. This moving book depicts the resilience and resourcefulness of young people who, though heavily impacted by the ravages of war, search for a better future for themselves, their families, and their cultures.
About the Author
---
Jenny Matthews has been a professional photographer since 1982. She has worked for many development organizations and charities on location across the world, including ActionAid, CARE International, and PhotoVoice. When not on assignment, Jenny Matthews lives in England.
Praise For…
---
Photojournalist Matthews has compiled many of her recent photos, sensitively shedding light on the effects of children growing up with war. ... The stories of disruption, stress, pain, and misery brought about by war are clear and strong. The photographs are powerful and well captioned. Realistic and somber, they give readers an illustration of the true face of war without verging on graphic or gruesome. ... An important work that many should see.
—School Library Journal

Through honest photographs and prose Matthews captures what it is like to be a child of war, as well as a photojournalist working in such ravaged countries. ... The text ... provides a valuable and unusual behind-the-camera perspective. An effective appeal to child readers as the ones who can stop the continuum of violence.
—Kirkus Reviews

Valuable end matter includes succinct overviews of "The Main Conflicts" in ten countries, websites of NGOs active in these areas, a glossary, a map noting world conflict zones, and an index. ... The issues raised here will help readers view the news with empathy and the documentary photographer's job with respect.
—Bulletin of the Center for Children's Books