144 Words Your Child Will Spell by the End of Grade 2 [With CDROM] (Paperback)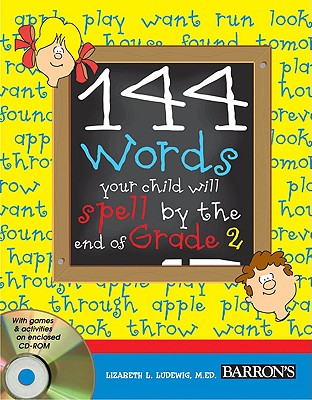 $14.99
This item is not currently available to order.
Description
---
Here's a fine follow-up book to Barron's just-published 101 Words Your Child Will Spell by the End of Grade 1. Parents whose second-graders are in standard schools, as well as parents of kids in home schooling programs will find this book a valuable teaching tool. As kids progress through second grade, their reading and writing abilities make visible advances. Using spelling games and related activities, this book focuses on children's writing and spelling skills, presenting 12 groups of 12 words each. All word groups are structured according to exactly the same phonetics skills that children are mastering as part of their second grade classroom curriculum. These groups include many commonly misspelled words--even some words that people continue to misspell when they are adults. The author encourages learning on a second-grade level by introducing fun activities that give children an opportunity to recognize, use, and write all 144 words correctly. As kids work through this book's pages, parents can join in by helping to make sure the child knows how to proceed at each step of the learning process. A CD-ROM is enclosed with every copy of this book. It presents additional interactive spelling games, activities, and puzzles designed to reinforce common grammar and spelling rules.