The Thirteen Hallows (Hardcover)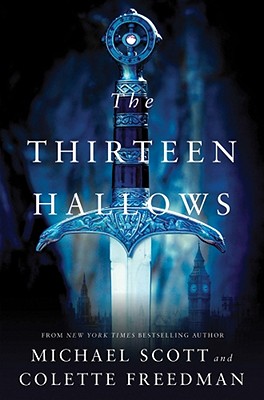 $26.24
This item is not currently available to order.
Description
---
A new adult novel from Michael Scott and Colette Freedman...

The Hallows. Ancient artifacts imbued with a primal and deadly power. But are they protectors of this world, or the keys to its destruction?
A gruesome murder in London reveals a sinister plot to uncover a two-thousand-year-old secret.
For decades, the Keepers guarded these Hallows, keeping them safe and hidden and apart from each other. But now the Keepers are being brutally murdered, their prizes stolen, the ancient objects bathed in their blood.
Now, only a few remain.
With her dying breath, one of the Keepers convinces Sarah Miller, a practical stranger, to deliver her Hallow a broken sword with devastating powers to her American nephew, Owen.
The duo quickly become suspects in a series of murders as they are chased by both the police and the sadistic Dark Man and his nubile mistress.
As Sarah and Owen search for the surviving Keepers, they unravel the deadly secret the Keepers were charged to protect. The mystery leads Sarah and Owen on a cat-and-mouse chase through England and Wales, and history itself, as they discover that the sword may be the only thing standing between the world and a horror beyond imagining.
"The Thirteen Hallows "is the beginning of a spellbinding new saga, a thrilling tale of ancient magic and modern times by a "New York Times" bestselling author and an award-winning playwright.
About the Author
---
MICHAEL SCOTT is an authority on mythology and folklore, and the author of the "New York Times "bestselling series The Secrets of the Immortal Nicholas Flamel. He lives in Dublin, Ireland.COLETTE FREEDMAN is an award-winning, internationally produced playwright.
Praise For…
---
"Relentless pacing and a richly detailed story line replete with historical references and bombshell revelations give this fantasy tremendous mainstream crossover potential." —Publishers Weekly
"This tale is fast-paced… Filled with twists and a vile villain, readers will enjoy touring London with Sarah and Owen as their guides." —Baryon Magazine