Every Heart a Doorway (Wayward Children #1) (Hardcover)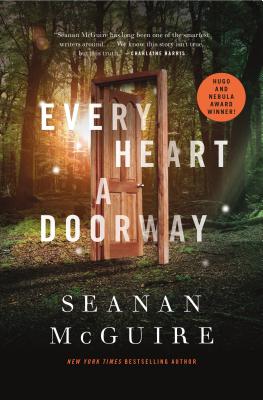 Other Books in Series
This is book number 1 in the Wayward Children series.
Staff Reviews
---
What happens to the children who return from their portal fantasies? Those with hope to return to the worlds they lost end up at Eleanor West's Home for Wayward Children - but when the chosen children start dying, it's up to Nancy (newly returned from the Halls of the Dead) and her newfound friends to solve the murders or risk losing the only place in this world that understands them. Seanan McGuire's writing, utterly captivating in her short stories, shines here in this beautiful bite-sized book. Not only is her world enchanting and her inclusive cast of characters fascinating, but Nancy struck a chord with me personally: the first asexual character I've read that truly reflected me, whose representation shaped the story and her interactions with other characters without ever being the story. McGuire's book will captivate those who don't identify with Nancy - the writing is that good - but for me, being able to welcome Nancy into my life and onto my shelves is enough to make this book a favorite.
— Nicole
Short and sweet in a bloodthirsty way. The premise is awesome. Children who have gone through a doorway into another world and returned will never again fit in to the here and now. They need a place where they are believed by people who understand. Enter Eleanor West's School for Wayward Children. Some children, it seems, are willing to do anything to get back to there magical world.
— Lisa
Description
---
Winner: 2017 Hugo Award
Winner: 2017 Alex Award
Winner: 2017 Locus Award
Winner: 2016 Nebula Award
Nominated: 2017 World Fantasy Award
Nominated: 2017 British Fantasy Award
2016 Tiptree Honor List

"A mini-masterpiece of portal fantasy — a jewel of a book that deserves to be shelved with Lewis Carroll's and C. S. Lewis' classics" —NPR

Eleanor West's Home for Wayward Children
No Solicitations
No Visitors
No Quests

Children have always disappeared under the right conditions; slipping through the shadows under a bed or at the back of a wardrobe, tumbling down rabbit holes and into old wells, and emerging somewhere... else.

But magical lands have little need for used-up miracle children.

Nancy tumbled once, but now she's back. The things she's experienced... they change a person. The children under Miss West's care understand all too well. And each of them is seeking a way back to their own fantasy world.

But Nancy's arrival marks a change at the Home. There's a darkness just around each corner, and when tragedy strikes, it's up to Nancy and her new-found schoolmates to get to the heart of things.

No matter the cost.

The Wayward Children Series
Book 1: Every Heart a Doorway
Book 2: Down Among the Sticks and Bones
Book 3: Beneath the Sugar Sky
Book 4: In an Absent Dream

PRAISE FOR EVERY HEART A DOORWAY

"Seanan McGuire has long been one of the smartest writers around, and with this novella we can easily see that her heart is as big as her brain. We know this story isn't true, but it is truth." — Charlaine Harris, New York Times bestselling author of the Sookie Stackhouse series (TV's True Blood)

"Every Heart a Doorway by Seanan McGuire is one of the most extraordinary stories I've ever read." — V. E. Schwab, New York Times bestselling author of A Gathering of Shadows

"Seanan McGuire once again demonstrates her intimate knowledge of the human heart in a powerful fable of loss, yearning and damaged children." — Paul Cornell, author of London Falling and Witches of Lychford

"So mindblowingly good, it hurts." — io9

"With Every Heart a Doorway, McGuire has created her own mini-masterpiece of portal fantasy — a jewel of a book that deserves to be shelved with Lewis Carroll's and C. S. Lewis' classics, even as it carves its own precocious space between them." — NPR
About the Author
---
SEANAN McGUIRE is the author of the October Daye urban fantasy series, the InCryptid series, and other works. She also writes darker fiction as Mira Grant.

Seanan lives in Seattle with her cats, a vast collection of creepy dolls and horror movies, and sufficient books to qualify her as a fire hazard.

She was the winner of the 2010 John W. Campbell Award for Best New Writer, and in 2013 she became the first person ever to appear five times on the same Hugo ballot.
Praise For…
---
"A jewel of a book that deserves to be shelved with Lewis Carroll's and C. S. Lewis' classics, even as it carves its own precocious space between them." —NPR

"This is a gorgeous story: sometimes mean, sometimes angry, and always exciting" —Cory Doctorow for BoingBoing

"McGuire's lyrical prose makes this novella a rich experience." —Library Journal starred review

"This amazing fantasy pierces the shimmering veil of childhood imagination by reminding adult readers that their own doorways still exist deep in the champers of their all-too-human hearts." —Booklist starred review

"This gothic charmer is a love letter to anyone who's ever felt out of place." — Publishers Weekly

"This gothic novel is ideal for fantasy fans who have longed for a world of their own, as well as readers looking for books with diverse casts." —Bookish

"Girl Interrupted meets Grimm's Fairy Tales. Let it in and it will touch your heart and open your mind." —Geek Syndicate

"The broken doors are open, and you should come and enter. Every Heart a Doorway feels like home." —B&N Sci-Fi & Fantasy Blog
We appreciate your continued support!
If you would like to make a donation to help us through CLICK HERE.