Come Tumbling Down (Wayward Children #5) (Hardcover)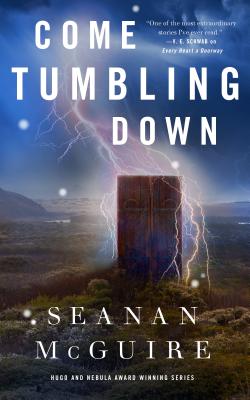 Other Books in Series
This is book number 5 in the Wayward Children series.
Staff Reviews
---
Can Seanan McGuire write the Wayward Child series forever? COME TUMBLING DOWN continues the story of Jack and Jill in a sublime exploration of what it means to hope for your world and to choose your destiny. More, please!
— Nicole
Great Reads
---
"Seanan McGuire strikes again with another breathtakingly beautiful fantasy! The Wayward Children series is an amazing collection of novellas for those who love the unique and bizarre, who long to see themselves in fiction, who want to lose themselves in words. This particular installment returns to some of her very best characters and can be enjoyed by new readers and devoted fans alike. Highly recommended!"
— Allison Chesbro, Schuler Books (Okemos), Okemos, MI
Description
---
The fifth installment in New York Times bestselling author Seanan McGuire's award-winning Wayward Children series, Come Tumbling Down picks up the threads left dangling by Every Heart a Doorway and Down Among the Sticks and Bones
When Jack left Eleanor West's School for Wayward Children she was carrying the body of her deliciously deranged sister—whom she had recently murdered in a fit of righteous justice—back to their home on the Moors.
But death in their adopted world isn't always as permanent as it is here, and when Jack is herself carried back into the school, it becomes clear that something has happened to her. Something terrible. Something of which only the maddest of scientists could conceive. Something only her friends are equipped to help her overcome.
Eleanor West's "No Quests" rule is about to be broken.
Again.
The Wayward Children Series
Book 1: Every Heart a Doorway
Book 2: Down Among the Sticks and Bones
Book 3: Beneath the Sugar Sky
Book 4: In an Absent Dream
Book 5: Come Tumbling Down
About the Author
---
SEANAN McGUIRE is the author of the October Daye urban fantasy series, the InCryptid series, and other works. She also writes darker fiction as Mira Grant.
Seanan lives in Seattle with her cats, a vast collection of creepy dolls and horror movies, and sufficient books to qualify her as a fire hazard.
She was the winner of the 2010 John W. Campbell Award for Best New Writer, and in 2013 she became the first person ever to appear five times on the same Hugo ballot.
Praise For…
---
"Come Tumbling Down is more proof of the charismatic power Seanan McGuire has long exhibited in the fantasy field; simply put, no one does it better." —Locus
"[Come Tumbling Down is] Grotesque, haunting, lovely." — Kirkus (starred review)


Praise for Every Heart a Doorway
"With Every Heart a Doorway, McGuire has created her own mini-masterpiece of portal fantasy — a jewel of a book that deserves to be shelved with Lewis Carroll's and C. S. Lewis' classics, even as it carves its own precocious space between them." — NPR
"Seanan McGuire has long been one of the smartest writers around, and with this novella we can easily see that her heart is as big as her brain." —Charlaine Harris
"One of the most extraordinary stories I've ever read." —V. E. Schwab
"This is a gorgeous story: sometimes mean, sometimes angry, and always exciting." —Cory Doctorow for BoingBoing
"So mindblowingly good, it hurts." —io9
"McGuire's lyrical prose makes this novella a rich experience." —Library Journal starred review
"This gothic charmer is a love letter to anyone who's ever felt out of place." — Publishers Weekly
"Seanan McGuire once again demonstrates her intimate knowledge of the human heart in a powerful fable of loss, yearning and damaged children." — Paul Cornell, author of London Falling and Witches of Lychford
We appreciate your continued support!
If you would like to make a donation to help us through CLICK HERE.