Somewhere: The Life of Jerome Robbins (Paperback)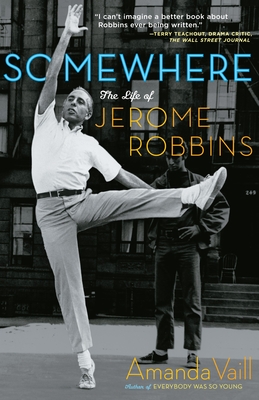 List Price: $24.00
Our Price: $22.95
(Save: $1.05 4%)
Description
---
From the author of the acclaimed Everybody Was So Young, the definitive and major biography of the great choreographer and Broadway legend Jerome Robbins

To some, Jerome Robbins was a demanding perfectionist, a driven taskmaster, a theatrical visionary; to others, he was a loyal friend, a supportive mentor, a generous and entertaining companion and colleague. Born Jerome Rabinowitz in New York City in 1918, Jerome Robbins repudiated his Jewish roots along with his name only to reclaim them with his triumphant staging of Fiddler on the Roof. A self-proclaimed homosexual, he had romances or relationships with both men and women, some famous—like Montgomery Clift and Natalie Wood—some less so. A resolutely unpolitical man, he was forced to testify before Congress at the height of anti-Communist hysteria. A consummate entertainer, he could be paralyzed by shyness; nearly infallible professionally, he was conflicted, vulnerable, and torn by self-doubt. Guarded and adamantly private, he was an inveterate and painfully honest journal writer who confided his innermost thoughts and aspirations to a remarkable series of diaries and memoirs. With ballets like Dances at a Gathering, Afternoon of a Faun, and The Concert, he humanized neoclassical dance; with musicals like On the Town, Gypsy, and West Side Story, he changed the face of theater in America.
In the pages of this definitive biography, Amanda Vaill takes full measure of the complicated, contradictory genius who was Jerome Robbins. She re-creates his childhood as the only son of Russian Jewish immigrants; his apprenticeship as a dancer and Broadway chorus gypsy; his explosion into prominence at the age of twenty-five with the ballet Fancy Free and its Broadway incarnation, On the Town; and his years of creative dominance in both theater and dance. She brings to life his colleagues and friends—from Leonard Bernstein and George Balanchine to Robert Wilson and Robert Graves—and his loves and lovers. And she tells the full story behind some of Robbins's most difficult episodes, such as his testimony before the House Un-American Activities Committee and his firing from the film version of West Side Story.
Drawing on thousands of pages of documents from Robbins's personal and professional papers, to which she was granted unfettered access, as well as on other archives and hundreds of interviews, Somewhere is a riveting narrative of a life lived onstage, offstage, and backstage. It is also an accomplished work of criticism and social history that chronicles one man's phenomenal career and places it squarely in the cultural ferment of a time when New York City was truly "a helluva town."
About the Author
---
AMANDA VAILL i is the author of the bestselling Everybody Was So Young, a finalist for the National Book Critics' Circle Award in biography, and Somewhere, for which she received a Guggenheim Fellowship. A publisher and editor for more than twenty years, she has written on arts and culture for New York, Esquire, Ballet Review, Architectural Digest, Town & Country, and other publications. She lives in New York City.
Praise For…
---
Praise for Somewhere

"Jerome Robbins is the great subject of American theatrical biography—self-contradictory, self-hating, arrogant and terrified and gifted almost beyond compare—and Amanda Vaill has done him justice. I can't think of a better full-length portrait of an American choreographer or director, and I can't imagine a better book about Robbins ever being written."
—Terry Teachout, drama critic, The Wall Street Journal
We appreciate your continued support!
If you would like to make a donation to help us through CLICK HERE.