Letter Perfect: The Marvelous History of Our Alphabet From A to Z (Paperback)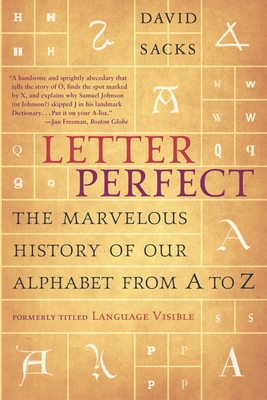 $19.80
This item is not currently available to order.
Description
---
A fun, lively, and learned excursion into the alphabet—and cultural history.

Letters are tangible language. Joining together in endless combinations to actually show speech, letters convey our messages and tell our stories. While we encounter these tiny shapes hundreds of times a day, we take for granted the long, fascinating history behind one of the most fundamental of human inventions: the alphabet.

The heart of the book is the 26 fact-filled "biographies" of letters A through Z, each one identifying the letter's particular significance for modern readers, tracing its development from ancient forms, and discussing its noteworthy role in literature and other media. We learn, for example, why the letter X has a sinister and sexual aura, how B came to signify second best, why the word "mother" in many languages starts with M, and what is the story of O.

Packed with information and lavishly illustrated, Letter Perfect is accessible, entertaining, and essential to the appreciation of our own language.
About the Author
---
DAVID SACKS is author of the Encyclopedia of the Ancient Greek World. His articles mainly on cultural topics have appeared in the New York Times Book Review, the Wall Street Journal, the Ottawa Citizen, and dozens of magazines. He lives in Ottawa, Ontario.
Praise For…
---
"At a time when it has become more important than ever to read clearly and intelligently in order to dismantle the daily traps of propaganda, this delightful book lays bare for us, with wit and wisdom, the very building-blocks of our culture: the mysterious letters of the alphabet that rule our language and thought."
—Alberto Manguel, author of A History of Reading

"Reading David Sacks's wonderful Letter Perfect is like sitting rapt before the coolest teacher in school. Sacks's excursion through the alphabet is witty and smart.  I was reluctant to finally leave the classroom."
—Mark Dunn, author of Ella Minnow Pea

"[Letter Perfect] is distinguished by its remarkably long and broad view of the topic and its omnivorous sense of fun. … [A] clear and appealing discussion. … [A] dazzlingly diverse array of facts. … From discussions of the letter A's role in meat grading, bond rating, student ranking, and punishment for adultery to Z's exotic associations with Zorro, Sacks makes the history of the alphabet a joy to read. Recommended for most libraries."
—Library Journal (US)

"An always clever -- but rarely too clever -- educational and entertaining history of the alphabet. A refreshing combination of erudition and breeziness."
—Kirkus Reviews

"Sacks unfolds the romance and magic of the English alphabet. Although Sacks writes for non-specialists, he distills an impressive range of scholarship into his examination of the alphabet's complex cultural history. This is a delightfully entertaining and engrossing tale of how the score of roman letters that arrived in England in the seventh century eventually gave us everything from the poetry of William Shakespeare to the official grades used by meat inspectors to evaluate chicken."
—Booklist

"As fun to read as it is enlightening...Sacks's obsession with language is contagious, and I can imagine few readers whose lives would not be enriched by what he calls his 'voyage of discovery.'"
—Julie Walton Shaver, The New York Times Book Review

"Sacks is at his best when he opens a world, and the worlds within worlds that shape-shift as written language moves...Letter Perfect is a valuable addition (edition?) for anyone who wants to know how Anglophones got from there to here."
—The Globe and Mail

"[Letter Perfect] is distinguished by its remarkably long and broad view of the topic and its omnivorous sense of fun. … [A] clear and appealing discussion. … [A] dazzlingly diverse array of facts. … From discussions of the letter A's role in meat grading, bond rating, student ranking, and punishment for adultery to Z's exotic associations with Zorro, Sacks makes the history of the alphabet a joy to read. Recommended for most libraries."
—Library Journal (US)

'Beautifully illustrated…[A] gem of popular linguistic history…[Letter Perfect] avoids taking itself too seriously."
—Publishers Weekly

"[A] cultural history of A to Z. Letter Perfect unravels the mystery of the alphabet's ancient origins, and explores its effects on the modern world."
—Citizen's Weekly

"Sacks writes in a jokey, conversational style…anthropomorphiz[ing] the letters to make their 'biographies' even more exciting."
—Winnipeg Free Press

"A delightful exploration of the roots, stalks and branches of the letter forms that proved to be so remarkably adaptable to so many diverse, unrelated languages."
—The Edmonton Journal

"Sacks does an excellent job tracing each letter's history…Well-researched and very readable."
—Quill and Quire

"[A] delightful journey into the history of our alphabet…With a breezy tone and a passion for letters, Sacks tells the life story of all 26 of them — from A, the 'first and best,' to Z, the least-used letter in printed English. Each of these 26 'biographies' is filled with entertaining and fascinating facts…In this rich history, Sacks offers answers to all of the mysteries of the alphabet, and a long-overdue examination of the origins of our ABCs."
—The Baltimore Sun

"…Journalist Sacks unfolds the romance and magic of the English alphabet. Although Sacks writes for nonspecialists, he distills an impressive range of scholarship into his examination of the alphabet's complex cultural history…Delightfully entertaining and engrossing."
—Booklist

"An always clever — but rarely too clever — educational and entertaining history of the alphabet….A refreshing combination of erudition and breeziness."
—Kirkus Reviews

"Sacks' often witty, always scientific and eminently historical approach draws us into mysteries of time and humanity."
—Contra Costa Times (California)

"[A] gem of popular linguistic history."
—Publishers Weekly

"Letter Perfect is a fun bit of popular scholarship, a diverting reference book filled with illustrations and sidebars that both entertain and inform. It is also a success story – the story of a 'spectacularly successful' invention (the alphabet), culminating in the global triumph of a spectacularly successful language (English)."
—Kitchener-Waterloo Record (Dec. 13, 2003)