The Wave: In Pursuit of the Rogues, Freaks and Giants of the Ocean (Hardcover)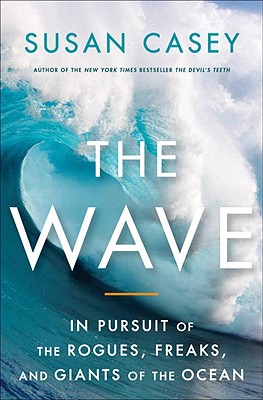 $30.75
Email or call for price.
October 2010 Indie Next List
---
"As with Devil's Teeth, her earlier study of great white sharks, Casey's newest effort combines engaging hard-science with adrenaline-infused raw action. Drop into The Wave and charge these monstrous ocean creatures with an eclectic cast of sun-bleached watermen and intrepid researchers. This read will definitely pull you out of your beach chair and into the water. Surf's way up!"
— Jamie Reiner, Elliot Bay Book Co., Seattle, WA
Description
---
From Susan Casey, bestselling author of The Devil's Teeth, an astonishing book about colossal,  ship-swallowing rogue waves and the surfers who seek them out.

For centuries, mariners have spun tales of gargantuan waves, 100-feet high or taller. Until recently scientists dis­missed these stories—waves that high would seem to violate the laws of physics. But in the past few decades, as a startling number of ships vanished and new evidence has emerged, oceanographers realized something scary was brewing in the planet's waters. They found their proof in February 2000, when a British research vessel was trapped in a vortex of impossibly mammoth waves in the North Sea—including several that approached 100 feet.

As scientists scramble to understand this phenomenon, others view the giant waves as the ultimate challenge. These are extreme surfers who fly around the world trying to ride the ocean's most destructive monsters. The pioneer of extreme surfing is the legendary Laird Hamilton, who, with a group of friends in Hawaii, figured out how to board suicidally large waves of 70 and 80 feet. Casey follows this unique tribe of peo­ple as they seek to conquer the holy grail of their sport, a 100­-foot wave.

In this mesmerizing account, the exploits of Hamilton and his fellow surfers are juxtaposed against scientists' urgent efforts to understand the destructive powers of waves—from the tsunami that wiped out 250,000 people in the Pacific in 2004 to the 1,740-foot-wave that recently leveled part of the Alaskan coast.

Like Jon Krakauer's Into Thin Air, The Wave brilliantly portrays human beings confronting nature at its most ferocious.
About the Author
---
SUSAN CASEY, the author of the New York Times bestseller The Devil's Teeth, is the  Editor-in-Chief of O, the Oprah Magazine, and has also served as creative director of Outside magazine.
Praise For…
---
"[Susan Casey] examines big waves from every angle, and goes in deep with those who know the phenomenon most intimately....Casey makes a convincing, entertaining case (nifty cliffhangers and all) that there is a heretofore little-known monster in our midst....She pushes the scientists on the big question.....Casey is fluent in 'gnarly' and proficient in 'wonk,' and she writes lucidly so the rest of us can come along for the ride. Her wonderfully vivid, kinetic narrative....offers a prescient vision of watery perils--and sometimes, bittersweet triumphs....Amid the images of demolition, Casey hangs on to the magic and beauty of waves."--New York Times Book Review

"You think Jaws made you fear the ocean? In this adrenaline rush of a book, Casey....describes 'nature's biggest tantrum'....Her eerie, majestic descriptions...make THE WAVE an unsettling thrill ride that's as terrifying as it is awe inspiring."--People



"Immensely powerful, beautiful, addictive and, yes, incredibly thrilling....takes the reader into the hearts and minds of the world's renowned surfers....Through the eyes of the surfers, readers get a remarkable sense of how they choose their waves, the skill that it takes to rocket across them, what it feels like to fall, what happens when surfers and Jet Skis are flung into coral reefs, what it's like to be rolled and pounded by tons of water, and what it is like physically and psychologically to be held under for too long - how some surfers make it back to the surface, and others drown.
But "The Wave" is far more than a book about surfing. Casey's quest is also to understand the characteristics of giant waves and rogue waves. She explores the impact giant waves have on ships, oil rigs, fishing boats and passenger ships.....Casey explains the science of waves in a straightforward but always engaging manner.....Casey also illuminates recent mind-boggling discoveries.....Casey unlocks the mysteries of waves in her fascinating and enlightening book. And like a surfer who is happily hooked, the reader simply won't be able to get enough of it."--San Francisco Chronicle

"Susan Casey's white-knuckle chronicle — which follows the surfers pursuing the waves and the scientists struggling to understand them — delivers a thrill so intense you may never get in a boat again."--Entertainment Weekly

"[A] thrilling tale"--Time

"Casey does an exceptional job of explaining the natural forces (winds, currents, ocean-bottom shape) that create these daunting, at times fatal, surfing spots....Casey's account of the impromptu adventure is terrific"--Wall Street Journal

"Gripping....we are thankful she included us on the ride."--The Washington Post

"The book dives deeply into the world of top-level surfers....Casey does a commendable job of surveying the broader problems confronting wave studies....compelling and wonderfully detailed....engrossing....Casey adroitly moves beyond what we think we know about big-wave surf culture and churns out a series of action chapters that are not for the faint of heart."--Los Angeles Times

"Reading the 'The Wave' is almost like riding one, paddling in the expositional surf of vivid imagery and colorful description, thrown at you in ever-escalating surges"--Cleveland Plain Dealer


"Extraordinary....fascinating, heroic, dazzling, terrifying, amazing, unbelievable, mesmerizing, instructive, enlightening, superb. This is the Dragon Tattoo, Moby Dick, Into Thin Air for our time; a powerful, articulate ride into a world you never knew existed but that you will never, never forget. I am honoured to write this review. Bravo, Susan Casey.-- Globe and Mail (Canada)

"Utterly engrossing"--Salon

"A fabulous page-turner" –John Hockenbery, NPR

"[A] captivating hybrid--an intro to the mind-melting physics of waves and a ride-along with the scientists and surfers who chase after them...Fascinating"
-- Men's Journal

"[A] breath-snatching thrill ride"
--Elle

"Casey pursues....with tenacity and literary grace....a powerful voice in adventure writing....delves into the science....masterful"--Outside

"ffers a probing look at both the passionate and the pragmatic sides of these oceanic wonders....compelling reading"---Bookpage

"Something is stewing in our seas, and Susan Casey—traveling, and in some cases swimming, all around the world—is eager to find out what it is. Both a rollicking look at the ocean's growing freakishness and a troubling examination of our ailing planet, The Wave gives new meaning to the term 'immersion reporting.'"
—Hampton Sides, author of Hellhound on His Trail, Blood and Thunder, and Ghost Soldiers

"At once scary and fun, The Wave surprises at every turn."
—Elizabeth Kolbert, author of Field Notes from a Catastrophe

"Like the surfers and scientists she profiles, Casey lived and breathed giant waves for years. Casey combines an insane passion for craft with an uncanny ability to describe the indescribable. In The Wave she whisks the reader off to unimaginably surreal settings and puts them in the middle of mind-blowing scenarios. This book sucked me in like the undertow at Pipeline."
—Mary Roach, author of Stiff and Packing for Mars

"Reading The Wave is the closest most of us will ever come to the sensation of riding, or even seeing, one of these towering monsters of the sea. It's exhilarating, astonishing, and, not infrequently, terrifying. Brace yourself."
—Candice Millard, author of The River of Doubt

"THE WAVE is an amazing look at humble yet larger-than-life people who live by daring feats, honorable acts, and selfless denial-- in short, these guys don't care if anyone is looking as they attempt what seems impossible: riding waves the size of ten story sky scrapers. Casey was there in the middle of the action, and she writes with such precision about such strange, wondrous things, that it seems that many objects rising out of the ocean in this book belong only to mythology. Terrifying, beautiful, her prose is shot through with the haunting half-light of a storm. You can hear the waves crashing on your head as you read. I'm not kidding. You feel the waves grow with each turn of the page."
--Doug Stanton , author of Horse Soldiers and In Harm's Way
 
"This book is adrenalin. You don't want to surf the waves described herein. Read the book. It's safer that way."
--Eddie Vedder
Coverage from NPR