Prophets, Pitfalls, and Principles (Revised & Expanded Edition of the Bestselling Classic): God's Prophetic People Today (Paperback)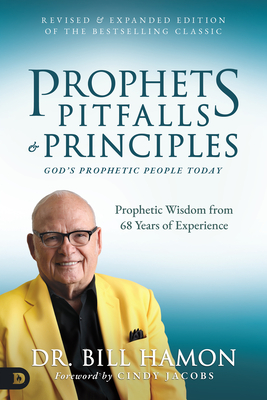 $19.99

Available in our Warehouse: Usually Ships in 3-8 Days
Description
---
Your Ultimate Guide to Discerning, Evaluating, and Judging Prophecy
I could have saved myself a lot of grief if I had read this book when I first started prophesying --Cindy Jacobs
"Twenty-five years ago, Dr. Hamon called me out of a crowd of 12,000 in Manila, Philippines, and prophesied that my face would be seen on television around the world. I have read and reread all of Bishop Hamon's prophetic books. This one is the best. Read it and apply it to your life. You will be glad you did --Gordon Robertson, 700 Club.
"Bishop Hamon has charted a safe and faith-filled place for the global prophetic movement to navigate progressively forward." --James W. Goll
"Bill Hamon writes books for a movement..." --Lance Wallnau
For nearly 70 years, Bishop Bill Hamon has been a leading voice in the church, recognized by many as the father of the modern prophetic movement. In an hour where prophetic ministry is being carefully scrutinized and prophets are being placed under the spiritual microscope, Hamon delivers a fresh presentation of his masterpiece on how to discern, judge and biblically evaluate prophecy and prophetic words.
Discover Your Hidden "Root" Problem & Weed Seed Attitude
Detect and Correct Character Flaws that Hinder Your Ministry
Wisdom for Dealing with Accurate and Inaccurate Prophecies
Discern and Prove the True and False Prophets by the 10 Ms
About the Author
---
Dr. Bill Hamon is founder and bishop of Christian International's Networks of Apostles, Prophetic Ministers, Education and Culture Influencers. He is recognized by many as the Father of the prophet Movement. He has functioned as a prophet for 68 years and has given personal prophecies to 75,000 individuals from babies in mothers' arms to kings of nations. Bishop Hamon and his 3000 ministers have taught, activated, and trained more than 500,000 individuals around the world into the prophetic ministry.