We Shall Persist: Women and the Vote in the Atlantic Provinces (Women's Suffrage and the Struggle for Democracy) (Hardcover)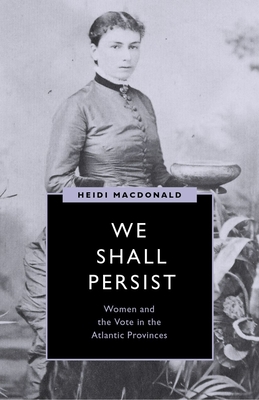 $42.84

Coming Soon - Available for Pre-Order Now
Description
---
A mapping of the political contexts and problems faced by advocates for women's suffrage and wider rights in the Atlantic Provinces.
It was only after exhausting campaigns for the Great Cause that women in Atlantic Canada finally won the right to vote and to run for office.
Despite virulent opposition, most regional nonindigenous women won enfranchisement in the immediate post–World War I era. This victory curbed the most blatant political misogyny and paved the way for other rights, such as improved social assistance and access to birth control. Yet progress was uneven and the movement itself was marred by class and racial inequities.
We Shall Persist painstakingly captures the long struggle, years of disappointment, and suffrage victories across Atlantic Canada—all steps in the unfinished march toward gender, race, and class equality.
About the Author
---
Heidi MacDonald is dean of arts and professor of history and politics at the University of New Brunswick, Saint John. She is coauthor of Vatican II and Beyond.