The Shot Caller: A Latino Gangbanger's Miraculous Escape from a Life of Violence to a New Life in Christ (Paperback)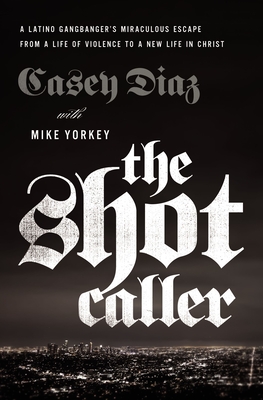 $17.99

Available in our Warehouse: Usually Ships in 3-8 Days
Description
---
When you feel like you've made too many missteps to go forward, how do you find the strength to carry on? Join Casey Diaz as he tells the remarkable story of God's heart for second chances.
The son of El Salvadorian immigrants, Casey Diaz was brought to Los Angeles at the age of two. An abusive, impoverished family life propelled Casey into the Rockwood Street Locos gang at just eleven years old.
Casey was willing to do anything to be number one, but years of chasing rival gang members led to a dramatic ambush and arrest by the LAPD. By age sixteen, Casey was sentenced to more than twelve years in solitary confinement in California's toughest prison as one of the state's most violent offenders.
He thought his life was over--but as the days in solitary wore on, Casey realized someone else was calling the shots. What happened next can only be described as a miracle.
Join Casey as he shares how we can all:
Embrace the incredible gift of God's redeeming love
Change our lives for the better
Find our God-given purpose
A visceral insider's look at the violent world of gangs and prison life, The Shot Caller is a remarkable demonstration of God's reckless, unending grace, and desire to reach even the worst of sinners--no matter where they are.
Praise for The Shot Caller:
"When I read about the life of Casey Diaz, I see so much of my own life. This is a story of a tough young man who lost his way, and of a loving God who never forgot him, no matter where he was. I know you will be inspired by Casey's story. I hope you, too, will surrender to the love of Jesus Christ."
--Nicky Cruz, bestselling author of Run Baby Run