Lucha Loco: The Free Wrestlers of Mexico (Paperback)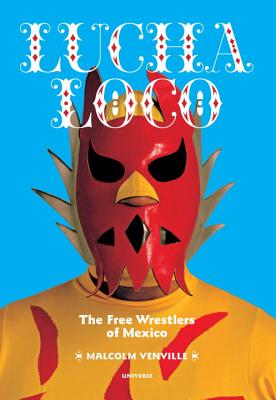 $8.78
This item is not currently available to order.
Description
---
Malcolm Venville's rare deluxe Mexican wrestling volume, now available in an accessible, popular format. Lucha Libre, or "free wrestling," is a cultural phenomenon—renowned not only for the wrestler's high-flying moves, but also for the mythology of their personas. These masked figures (a ritual dating back to Aztec culture) treat their masks—and the identities they embody—as sacred. El Santo, the first luchador pop star, rarely took off his mask even in retirement, and was eventually buried in it. It is such a significant part of the sport (and the performance) that the removal of an opponent's mask in the ring is grounds for disqualification. Malcolm Venville fell in love with the sport after catching a show in Mexico and spent several weeks photographing and interviewing wrestlers outside the ring in a small portrait studio. Alongside each portrait is the wrestler's fighting name and a signature quote from these interviews. Among the subjects are an accountant and a doctor by day—but Super Pinocchio and Astro Boy by night. They offer such gems as: "American wrestling is more about the lighting," "My character is the fastest in Mexico, but not when I'm making love," and "I combine wrestling with stripping but wrestling's my passion." The result is an even more hilarious and colorful look at this already entertaining spectacle—part sport, part soap opera—as well as a window into the life of a luchador, a world normally shrouded in mystery.
About the Author
---
Malcolm Venville, a director and photographer, was born in Birmingham, England. He has won several Association of Photographers Awards and directed several short films.

Sandro Cohen is a Mexican poet, novelist, and literary critic. He is a professor at the Universidad Autonoma Metropolitana in Mexico City.
Praise For…
---
"In his extraordinary new book, Lucha Loco, photographer Malcolm Venville gives us a glimpse at the amazing and outrageous costume creations of Mexican wrestlers... [This] fantastic new book out in February (Universe) is British photographer/filmmaker Malcolm Venville's brilliant homage to the most creative of these fascinating performers." ~Paper

"As Malcolm Venville's book of photographs, Lucha Loco, shows, [these wrestlers] lead Clark Kentish double lives to maintain their place in the world of luchadores." ~The New Yorker

"Frightening, fetishistic, funny... such is the world of the luchadors, those colorful Mexican wrestlers. Photographer Malcolm Venville explores the spectacle with 128 portraits in Lucha Loco." ~ESPN

"This bilingual coffee table book gives you pictures and details of more than 100 different luchadores. Visually striking, fascinating - and super-manly." ~Latina Magazine

"With over 100 luchadores, Venville's photos provide an insanely personal insight into the thoughts and mindsets of the wrestlers of Mexico." ~Racket Magazine

"[The] elaborate outfits and masks range from the kind-of-intimidating to the simply mind-melting, with personas to match... The portraits were made with large-format film in a Mexico City studio and are reproducted in eye-popping color." ~Flavorwire.com