Chase the Fun: 100 Days to Discover Fun Right Where You Are (Hardcover)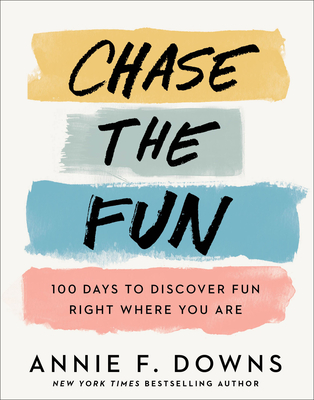 $18.99
This item is not currently available to order.
Description
---
We all know that having fun enriches our lives and lifts our spirits, but so often life gets in the way. Fun seems like something we did when we were kids, and we just don't have time for it now. I mean, we barely have time for all the stuff we have to do, let alone the stuff we want to do. We can go days without actually having any fun at all. If you ask New York Times bestselling author Annie F. Downs, she'll tell you that's no way to live

Annie knows that when you chase fun, joy follows. In this beautifully designed full-color devotional with a ribbon marker, she invites you to experience 100 delightful days of discovering fun right where you are. With her insightful writing and provocative questions, she helps you identify what you find fun and then go after it like it matters. Because it does.

Fun isn't frivolous or somehow extra. It's essential So join Annie on this 100-day journey into prioritizing fun in your life.
About the Author
---
Annie F. Downs is a New York Times bestselling author, sought-after speaker, and successful podcast host based in Nashville, Tennessee. Engaging and honest, she makes readers and listeners alike feel as if they've been longtime friends. Founder of the That Sounds Fun Network--which includes her aptly named flagship show, That Sounds Fun--and author of multiple bestselling books like That Sounds Fun, What Sounds Fun to You?, 100 Days to Brave, and Remember God, Annie shoots straight and doesn't shy away from the tough topics. But she always finds her way back to the truth that God is good and that life is a gift. Annie is a huge fan of laughing with friends, confetti, soccer, and boiled peanuts (preferably from a back-roads Georgia gas station). Read more at anniefdowns.com and find her (embarrassingly easily) all over the internet @anniefdowns.