Biblical Healing and Deliverance: A Guide to Experiencing Freedom from Sins of the Past, Destructive Beliefs, Emotional and Spiritual Pain, Curses and (Paperback)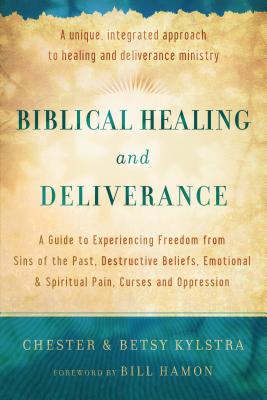 $19.79

Available in our Warehouse: Usually Ships in 3-8 Days
Description
---
Set the stage for unhindered healing.

Rejection, depression, guilt, fear--evidence of spiritual bondage in today's world is rampant. The hurt is real, but so is the good news

In this groundbreaking, classic work, Chester and Betsy Kylstra show how you can trace pain and woundedness back to four foundational sources. True, lasting restoration and healing take place by dealing with these four sources together in an integrated way, instead of as separate areas. They are

- release from ancestral sins and curses
- replacement of destructive beliefs with godly ones
- healing from emotional and spiritual pain
- deliverance from demonic oppression

This well-proven manual is designed for both personal recovery and ministry to others. In it, the Kylstras provide guiding Scriptures, step-by-step processes, self-inventories, visual aids, tables and real-life stories of people being restored through this integrated, fourfold approach.

You can live free Become who you are meant to be, and help others do the same.

"I heartily recommend this book to all who would heal others or be healed themselves."--John Sandford, co-founder, Elijah House, Inc.

"An outstanding, life-changing book "--Dr. Ch Ahn, senior pastor, HROCK Church; co-founder, Harvest International Ministry

"This book expresses the most balanced and workable ministry in the area of biblical healing that I have ever witnessed or experienced."--Dr. Bill Hamon, founder and bishop, Christian International Ministries Network

"The Kylstras' systematic teaching will restore your foundations to be truly free in Christ."--John Arnott, founding pastor, Catch the Fire.
About the Author
---
Chester and Betsy Kylstra are ordained ministers with Christian International Ministries Network. They serve on Bishop Bill Hamon's Board of Governors and on C. Peter Wagner's Apostolic Roundtable of Deliverance Ministries. They founded Proclaiming His Word Ministries in 1992. The Kylstras, who have four adult children, travel around the world and live in Hendersonville, North Carolina.