The 52 Greatest Stories of the Bible: A Weekly Devotional (Paperback)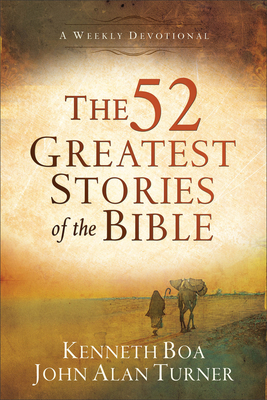 $16.99

Available in our Warehouse: Usually Ships in 3-8 Days
Description
---
Classic Weekly Devotional through Some of the Bible's Most Fascinating Stories

How well do everyday Christians know the stories that have shaped their faith? More than just a collection of significant and entertaining stories, The 52 Greatest Stories of the Bible impresses upon readers the beautiful interconnectedness of the varied narratives we find in the Bible. It:

- connects the dots, demonstrating how each individual story is really one chapter in the larger story
- shows how Jesus, especially his death and resurrection, is the point of the story, even when the Son of God is not a key player
- helps readers build a biblical worldview that answers the ultimate questions of life

Readers will gain a better grasp of the whole story of Scripture and, most importantly, why these stories are the ones God chose to preserve for us through the writers of the Bible.
About the Author
---
Kenneth Boa is a writer, teacher, speaker, and mentor. He writes a free monthly teaching letter called Reflections and is the author of several books, including Conformed to His Image, Faith Has its Reasons, Handbook to Prayer, Handbook to Leadership, and A Taste of the Classics. Boa is president of Reflections Ministries and holds a BS from Case Institute of Technology, a ThM from Dallas Theological Seminary, a PhD from New York University, and a DPhil from the University of Oxford in England. Learn more at www.kenboa.org.John Turner has studied theology, psychology, and philosophy, earning an undergraduate degree from Pacific Christian College and a ThM from Bear Valley Bible Institute. Having served churches in California, Maryland and Texas, Mr. Turner is now the president of Faith 2.0 Ministries.