Banzai Babe Ruth: Baseball, Espionage, and Assassination during the 1934 Tour of Japan (Hardcover)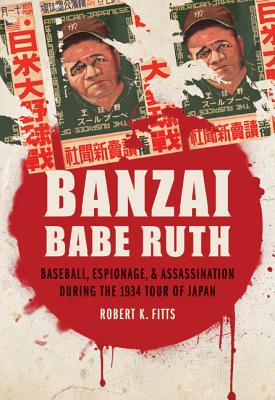 $34.95

Available in our Warehouse: Usually Ships in 3-8 Days
Description
---
In November 1934 as the United States and Japan drifted toward war, a team of American League all-stars that included Babe Ruth, Lou Gehrig, Jimmie Foxx, future secret agent Moe Berg, and Connie Mack barnstormed across the Land of the Rising Sun. Hundreds of thousands of fans, many waving Japanese and American flags, welcomed the team with shouts of "Banzai! Banzai, Babe Ruth!" The all-stars stayed for a month, playing 18 games, spawning professional baseball in Japan, and spreading goodwill.
Politicians on both sides of the Pacific hoped that the amity generated by the tour—and the two nations' shared love of the game—could help heal their growing political differences. But the Babe and baseball could not overcome Japan's growing nationalism, as a bloody coup d'état by young army officers and an assassination attempt by the ultranationalist War Gods Society jeopardized the tour's success. A tale of international intrigue, espionage, attempted murder, and, of course, baseball, Banzai Babe Ruth is the first detailed account of the doomed attempt to reconcile the United States and Japan through the 1934 All American baseball tour. Robert K. Fitts provides a wonderful story about baseball, nationalism, and American and Japanese cultural history.
About the Author
---
Robert K. Fitts graduated from the University of Pennsylvania and received a PhD from Brown University. Originally trained as an archeologist of colonial America, Fitts left that field to focus on his passion, Japanese baseball. He is also the author of Remembering Japanese Baseball: An Oral History of the Game and Wally Yonamine: The Man Who Changed Japanese Baseball (Nebraska, 2008).
Praise For…
---
"This dramatic story, equal parts baseball and history, should appeal to anyone interested in Japanese cultural and political history and the sports-politics nexus."—Library Journal

"This is a well-researched, fascinatingly told tale of two super powers whose shared passion for baseball wasn't enough to maintain the peace, though it did help to restore it in the years following World War II."—James Bailey, Baseball America

"How did two nations that shared the values of the same national pastime go from baseballs to bullets? Historian Rob Fitts tells a dark tale of baseball caught between democracy and fascism in prewar Japan. Banzai Babe Ruth is a sayonara home run!"—John Thorn, official historian for Major League Baseball

"Banzai Babe Ruth is far more than just a sports story. . . . No one could have told this incredible story better than Robert K. Fitts."—ForeWord magazine

"If I could have taken one road trip with anyone in the history of American sport, I think I would have traveled with Babe Ruth and the All American All-Stars on their eighteen-game tour of Japan in November 1934. With the drumbeat growing louder and louder as World War II approached, with the Babe suddenly at loose ends near the end of his baseball career, and with home runs and innocence dwarfed by political machinations and suspicions, the trip played out like a B-movie potboiler. Luckily for us, Robert K. Fitts invites us along in Banzai Babe Ruth, his well-written chronicle of all that happened."—Leigh Montville, author of The Big Bam: The Life and Times of Babe Ruth

"Fitts is excellent at capturing occasional bouts of dissension among the American players, describing the respectable quality of play by their Japanese opponents, and especially at capturing the ominous atmosphere that surrounded the tour. Fans will love the stats and player photos, too!"—Tom Lavoie, Shelf Awareness

"Rob Fitts masterfully incorporates the forty-plus Japanese actors and American counterparts, detailing their various baseball, business, political, and military concerns and motives."—Southern New England Chapter, Society for American Baseball Research