From the Mouths of Dogs: What Our Pets Teach Us about Life, Death, and Being Human (Hardcover)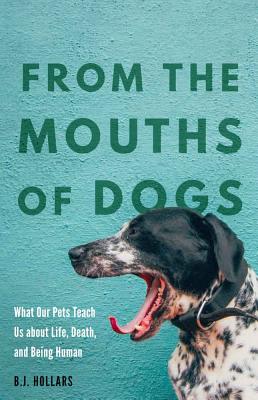 $24.95

Available in our Warehouse: Usually Ships in 3-8 Days
Description
---
What is it that dogs have done to earn the title of "man's best friend"? And more broadly, how have all of our furry, feathered, and four-legged brethren managed to enrich our lives? Why do we love them? What can we learn from them? And why is it so difficult to say good-bye? Join B.J. Hollars as he attempts to find out—beginning with an ancient dog cemetery in Ashkelon, Israel, and moving to the present day.
Hollars's firsthand reports recount a range of stories: the arduous existence of a shelter officer, a woman's relentless attempt to found a senior-dog adoption facility, a family's struggle to create a one-of-a-kind orthotic for its bulldog, and the particular bond between a blind woman and her Seeing Eye dog. The book culminates with Hollars's own cross-country journey to Hartsdale Pet Cemetery—the country's largest and oldest pet cemetery—to begin the long-overdue process of laying his own childhood dog to rest.
Through these stories, Hollars reveals much about our pets but even more about the humans who share their lives, providing a much-needed reminder that the world would be a better place if we took a few cues from man's best friends.
About the Author
---
B.J. Hollars is an associate professor of English at the University of Wisconsin–Eau Claire. He is the author of numerous books, including This Is Only a Test, From the Mouths of Dogs: What Our Pets Teach Us about Life, Death, and Being Human (Nebraska, 2015), and Thirteen Loops: Race, Violence, and the Last Lynching in America.
Hollars is the founder and executive director of the Chippewa Valley Writers Guild. He lives a simple existence with his wife, their children, and their dog.
Praise For…
---
"An honest, heartwarming choice for animal lovers."—Eric Liebetrau, Kirkus

"Readers of this book will come away with new knowledge and respect for both dogs and the humans that love and care for them. The stories are easy reading and can be read one chapter at a time without losing your place. Definitely a winner."—Kyle Wendy Skultety, GimmethatBook.com

"From The Mouths Of Dogs speaks to the special bond between human and pet, and deftly illustrates the underlying emotional current that truly makes dog man's best friend."—Eric Christensen, Volume One

"This inspiring study is recommended for animal lovers, and for lovers of life in general."—Portland Book Review
 

"Part anthropology, part ethnography, part memoir, fully awesome, From the Mouths of Dogs is one of the loveliest, smartest, and most intimate celebrations [and] interrogations of heartbreak . . . that I've read in quite some time. . . . Hollars brilliantly reveals us as a species with equal need for the body and the dust, for history, for memory, for miracle."—Matthew Gavin Frank, author of Preparing the Ghost

"B.J. Hollars allows us intimate glimpses of dog-human relationships that are not usually in public view: behind the scenes at a shelter, in a home for senior dogs, or in the makeshift pet cemetery at his childhood home. Any animal lover will eagerly absorb these stories of love, compassion, and, inevitably, grief."—Brenda Miller, author of Blessing of the Animals