The Art of War: The Definitive Interpretation of Sun Tzu's Classic Book of Strategy (Hardcover)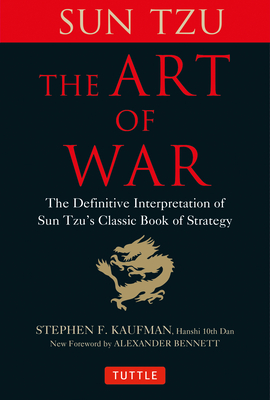 $14.99

Available in our Warehouse: Usually Ships in 3-8 Days
Description
---
The Art of War
by Sun Tzu is the best known book on military strategy ever written. Although its wisdom is ancient, its principles and advice are timeless; it remains as influential as ever in military strategy, leadership roles, business tactics, legal challenges, martial arts philosophy and more. Everyone from New England Patriots' coach Bill Belichick to Tupac Shakur have turned to this time tested treatise. This translation is by Hanshi Stephen F. Kaufman, one of America's leading martial artists, and is specifically aimed at martial practitioners to demonstrate how Sun Tzu's strategies can be applied to martial combat.
The book's thirteen sections present vital information including:
Planning ahead--how a solid battle plan can help lead to victory
Attacking the enemy--considerations when choosing to attack or, perhaps even more importantly, when to not attack
Flexibility in combat--the importance of changing tactics as the fight evolves
Exploiting weakness--how understanding your enemy's shortcomings is crucial to success
This edition includes 32 pages of full color images, capturing the pageantry of ancient combat. A new foreword by martial historian and decorated martial artist Alexander Bennett explains the importance of Sun Tzu's text and the value of Kaufman's interpretation for the martial artist.
About the Author
---
Sun Tzu, originally named Sun Wu and also called Chang Qing, authored The Art of War in the sixth century BC. This military strategy book became the most influential book of war, and Sun Tzu became well-known for being a military strategist, but also an international relations realist. Stephen F. Kaufman, Hanshi, 10th Dan, is the holder of the highest rank attainable in the martial arts. His martial system, Hebi-ryu ("School of the Snake"), is recognized as one of the most effective combat methods in the world. His career spanning close to 60 years began in Okinawa in the 1950's. He's acknowledged as a "founding father" of American karate and has received countless awards and honors, including an induction to the World Karate Union Hall of Fame in 2011. Kaufman has authored many martial arts titles including Musashi's Book of Five Rings, The Way of the Modern Warrior and The Shogun's Scroll. Alexander Bennett is a professor of Japanese history, martial arts and Budo theory at Kansai University. He cofounded Kendo World, the first English-language journal dedicated to Kendo. He holds black belts in several martial disciplines--Kendo Kyoshi, 7th Dan; Iaido, 5th Dan; and Naginata, 5th Dan. His published works include Japan: The Ultimate Samurai Guide, Hagakure: The Secret Wisdom of the Samurai and Bushido Explained: The Japanese Samurai Code--A New Interpretation for Beginners.