The Myth of Monogamy: Fidelity and Infidelity in Animals and People (Paperback)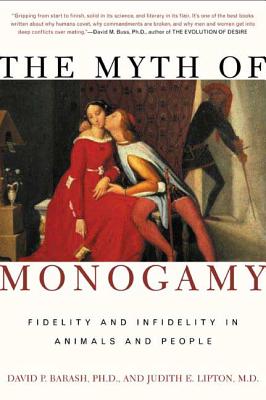 $20.99

Available in our Warehouse: Usually Ships in 3-8 Days
Description
---
Applying new research to sex in the animal world, esteemed scientists David P. Barash and Judith Eve Lipton dispel the notion that monogamy comes naturally. In fact, as The Myth of Monogamy reveals, biologists have discovered that for nearly every species, cheating is the rule -- for both sexes.

Reviewing findings from the same DNA fingerprinting science employed in the courtroom, Barash and Lipton take readers from chickadee nests to chimpanzee packs to explain why animals cheat. (Some prostitute themselves for food or protection, while others strive to couple with genetically superior or multiple mates.) The Myth of Monogamy then illuminates the implications of these dramatic new findings for humans, in our relationships, as parents, and more.

The Myth of Monogamy at last brings scientific insight into this emotionally charged aspect of the ultimate dating and marriage quandary.
About the Author
---
David P. Barash holds a Ph.D. in zoology and is currently professor of psychology at the University of Washington, Seattle. He has written more than a dozen books, including Making Sense of Sex with Judith Lipton, Ideas of Human Nature, and The Mammal in the Mirror, as well as popular articles in Playboy, Psychology Today, and the New York Times.
Judith Eve Lipton, M.D.
is a psychiatrist who has received many honors, including Fellowship in the American Psychiatric Association. She has practiced psychiatry since 1980, currently specializing in women's issues.
Praise For…
---
"A highly readable, light-hearted survey of monogamy and its variations across the animal kingdom." —Nature

"Gripping from start to finish, solid in its science, and literary in its flair . . ." —David M. Buss, Ph.D., professor of psychology, University of Texas

"A smart, intriguing, witty, non-sexist, provocative yet careful book about the realities . . . 'infidelity.'" —Pepper Schwartz, Ph.D.