Everyman's Talmud: The Major Teachings of the Rabbinic Sages (Paperback)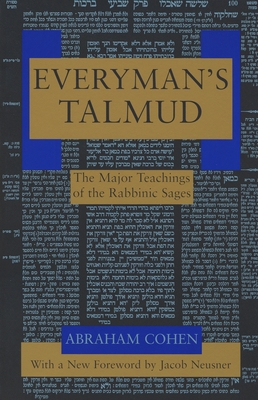 Description
---
Long regarded as the classic introduction to the teachings of the Talmud, this comprehensive and masterly distillation summarizes the wisdom of the rabbinic sages on the dominant themes of Judaism.

"To some readers of this book, the Talmud represents little more than a famous Jewish book. But people want to know about a book that, they are told, defines Judaism. Everyman's Talmud is the right place to begin not only to learn about Judaism in general but to meet the substance of the Talmud in particular . . . In time to come, Cohen's book will find its companion-though I do not anticipate it will ever require a successor for what it accomplishes with elegance and intelligence: a systematic theology of the Talmud's Judaism."
—From the Foreword by Jacob Neusner

This classic introduction reveals the wisdom of the rabbinic sages on such topics as the doctrine of God; God and the universe; the soul and its destiny; prophesy and revelation; physical life; moral life and social living; law, ethics, and jurisprudence; legends and folk traditions; the Messiah and the world to come.
About the Author
---
ABRAHAM COHEN (1887–1957) was the author of Everyman's Talmud editor of the Soncino Books of the Bible and participated in the Soncino translation of the Talmud and Midrash.