Comentario Bíblico Conciso Holman (Hardcover)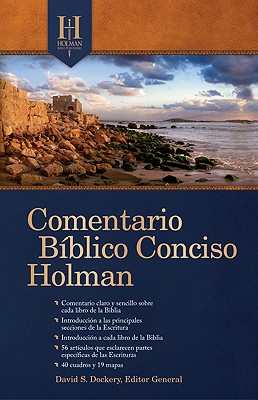 $14.99
This item is not currently available to order.
Description
---
El Comentario Bíblico Conciso Holman, con su excelente erudición y excep- cional claridad, brinda a los lectores una primera impresión sobre los temas clave y los propósitos de los 66 libros de la Biblia. Sin embargo, no hay que confundir conciso con incompleto. Este volumen también contiene introducciones detalladas a las diez unidades clave de las Escrituras (los Evangelios, las cartas de Pablo, etc.), mapas relacionados con la historia bíblica, gráficos explicativos y franjas laterales con información exhaustiva. Constituye una publicación ideal para aportar un enfoque adicional a lecciones de estudio bíblico, sermones y devocionales personales.

With solid scholarship and exceptional clarity, Comentario Bíblico Conciso Holman, the Spanish edition of the Holman Concise Bible Commentary, gives readers a feel for the key themes and intentions of all 66 books in the Bible. But don't mistake concise for incomplete; this volume also contains detailed introductions to the ten major units of Scripture (the Gospels, Paul's letters, etc.), maps related to biblical history, informational charts, and in-depth sidebars. It's a perfect resource for adding an extra level of insight to Sunday school lessons, sermons, and personal devotional times.

About the Author
---
David S. Dockery has been the president of Trinity International University in Deerfield, Illinois since 2014. Before coming to Trinity, Dockery served as president of Union University in Jackson, Tennessee for more than 18 years. He has also served as chairman of the board of the Council for Christian Colleges and Universities. Dockery has authored or edited thirty books including Renewing Minds, Shaping a Christian Worldview, and Christian Leadership Essentials.