French Women Don't Sleep Alone: Pleasurable Secrets to Finding Love (Paperback)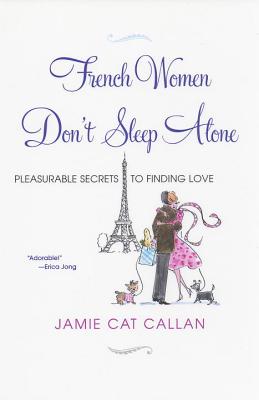 $15.00
Available in our Warehouse: Usually Ships in 1-5 Days
Description
---
Did you know that French women don't date?
American women have been missing out on a few secrets when it comes to the opposite sex. French women believe that the gift for attracting men has nothing to do with beauty, work, or even motivation. There are no Rules. And they don't listen to Dr. Phil's advice. They don't worry about the care and feeding of their boyfriend. And they certainly don't travel to Mars to communicate with men. On the contrary, French women's love lives are romantic, sensual, playful, and intense. They conduct their relationships with the same unique sense of originality and artfulness that they choose their clothes and accessories. For the first time ever, Jamie Cat Callan gives readers a personalized, guided tour through the corridors of French love.
Discover the secrets to:
Why French women always feel sexy
The French art of flirtation
Why French women walk everywhere and love to be seen
Where French women meet men
What French women do when their man misbehaves
Just as we've learned to stop torturing ourselves with fad diets and have relearned the art of eating, this witty, insightful, and candid book strives to show American women how to cultivate and enjoy the pleasures of love, romance, and marriage.
Includes delicious recipes for the perfect, amorous meal
"Adorable " --Erica Jong, New York Timesbestselling author ofFear of FlyingandFear of Fifty
"Attention single ladies: here's a new way to meet men and drive them wild Jamie Cat Callan reveals sexy French secrets for upping your confidence and attracting potential mates. Your inner goddess will rejoice--and so will your new boyfriend Ooh la la " --Bonnie Fuller, former CEO of American Media, former editor-in-chief ofStar Magazine, and author ofThe Joys of Much Too Much: Go for the Big Life--The Great Career, The Perfect Guy, andEverything Else You've Ever Wanted
"No matter where you were born, every woman can now be a little bit French, thanks to this delightful book, French Women Don't Sleep Alone. Jamie Cat Callan helps women to look at their love lives and marriages with new eyes;love and marriage are not jobs but arts." --Nahid Rachlin, author ofPersian Girls
"Entertaining and informative " --Helena Firth Powell, author ofAll You Need To Be Impossibly French
About the Author
---
JAMIE CAT CALLAN has lived in France, and has interviewed numerous French women. She has published books on the subjects of relationships and writing, and has been featured in the "Modern Love" column in the New York Times, as well as Best American Erotica, The Missouri Review, and Story and American Letters & Commentary. She currently teaches writing at Wesleyan University Graduate Liberal Studies Program, and lives with her husband in Cape Cod, Massachusetts.