All Is Not Lost: 20 Ways to Revolutionize Disaster (Paperback)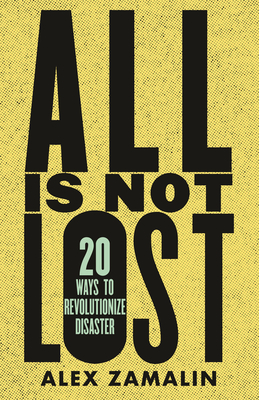 $14.95

Available in our Warehouse: Usually Ships in 3-8 Days
Description
---
An uplifting look at how organizers in the past have successfully leveraged crises into emancipatory politics, and a plea for continued progressive movement building in our tumultuous social climate

From the climate apocalypse and COVID-19 to double-digit unemployment to Donald Trump and the rise of far-right white nationalists—disasters are everywhere we look.

While these disasters often leave us feeling hopeless and withdrawn, scholar Alex Zamalin argues that pessimism cannot be the only response. Silence and inaction only perpetuate mass suffering and inequality. Instead, All Is Not Lost suggests that following every crisis emerges new political opportunity for changing our politics and everyday lives.

Blending intellectual history, biography, and political critique, Zamalin offers 20 specific lessons for our present moment, turning to moments in history to demonstrate how various figures in the past have successfully leveraged struggles into sources of political action and freedom. The lessons—on how to resist, organize, treat others, think politically, memorialize, dream, write, occupy, build, and act—all build toward one truth: though disaster is something we cannot prevent from arriving, we can control how we confront it and what we build in its place. Using examples from the 17th century to the present, All Is Not Lost reminds readers to not back down in the face of crisis and offers radical lessons of continued resistance and movement building to create a successful progressive coalition.
About the Author
---
Alex Zamalin is the director of the African American Studies Program and an associate professor of political science at the University of Detroit Mercy. He is the author of numerous books, including, most recently, Against Civility: The Hidden Racism in Our Obsession with Civility. His areas of expertise include African American political thought, American politics, and political theory. Zamalin's essays and reviews have appeared in various edited book collections and in peer-reviewed journals such as New Political Science, Contemporary Political Theory, Political Theory, and Women's Studies Quarterly.
Praise For…
---
"A [fiery], earnest effort to inspire progressives to regain the political initiative now apparently firmly in conservative hands."
—Kirkus Reviews

"In the wake of the wreckage of the Trump era and pandemic, relief is widespread, but so too is a sense of hopelessness. This book is a call to action, a must-read."
—Roxanne Dunbar-Ortiz, author of Not "a Nation of Immigrants": Settler Colonialism, White Supremacy, and a History of Erasure and Exclusion

"Many of these remarkable stories from our history will be new to readers—which is sad in a way, since they are important chapters that have been ignored (or erased). But it's a joy in another way, because their fresh power will inspire many to action!"
—Bill McKibben, author of The End of Nature

"Pondering those who have resisted in our history, Alex Zamalin proposes, is the first step—after COVID and Donald Trump—to making sure that the center and right are not the only forces to reap the benefits of the ongoing American crisis. This is a thrilling read for our times."
—Samuel Moyn, Yale University, author of Humane: How the United States Abandoned Peace and Reinvented War

"If, as Alex Zamalin says, 'radical ideas are most palatable when they're boldly announced and proudly defended in the mainstream,' then this book will be their vehicle. All Is Not Lost is a visionary romp through the history we need for a transformational, just, and egalitarian politics. Vivid, inspiring, and accessible, this book gives us heroes who know that 'to change what feels familiar, you have to make a scene.' It should be read by everyone."
—Bonnie Honig, Brown University, author of Shell-Shocked: Feminist Criticism After Trump

"In this place of darkness and disaster, Alex Zamalin gives us a guide to overcoming. Written with a great heart and a cool head, he maps what can, what should, be done to build a new world from the shards of the old. This is a call to change within our reach, a map to revolution in the everyday."
—Anne Norton, University of Pennsylvania, author of Leo Strauss and the Politics of American Empire

"Filled with inspiring heroes and inspiriting examples, this appeal to make a better world offers an assertive call to seize the time. Combining ethics and idealism with grounded strategies for democratic mobilization, the book presents evocative and compelling guidance about how to organize and identifies ways to communicate without apology."
—Ira Katznelson, author of When Affirmative Action Was White: An Untold History of Racial Inequality in Twentieth-Century America