Man's Search for Meaning: Young Adult Edition: Young Adult Edition (Abridged / Paperback)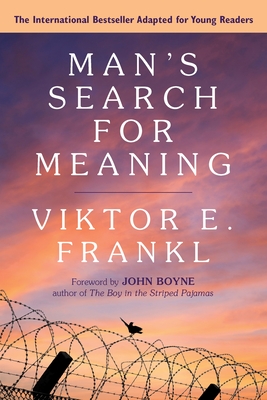 $11.99

Available in our Warehouse: Usually Ships in 3-8 Days
Description
---
A young adult edition of the best-selling classic about the Holocaust and finding meaning in suffering, with a photo insert, a glossary of terms, a chronology of Frankl's life, and supplementary letters and speeches

Viktor E. Frankl's Man's Search for Meaning is a classic work of Holocaust literature that has riveted generations of readers. Like Anne Frank's Diary of a Young Girl and Elie Wiesel's Night, Frankl's masterpiece is a timeless examination of life in the Nazi death camps. At the same time, Frankl's universal lessons for coping with suffering and finding one's purpose in life offer an unforgettable message for readers seeking solace and guidance. This young adult edition features the entirety of Frankl's Holocaust memoir and an abridged version of his writing on psychology, supplemented with photographs, a map of the concentration camps, a glossary of terms, a selection of Frankl's letters and speeches, and a timeline of his life and of important events in the Holocaust. These supplementary materials vividly bring Frankl's story to life, serving as valuable teaching and learning tools. A foreword by renowned novelist John Boyne provides a stirring testament to the lasting power of Frankl's moral vision.
About the Author
---
Born in Vienna in 1905, Viktor E. Frankl published more than thirty books on psychology and served as a visiting professor and lecturer at Harvard, Stanford, and other universities in the United States. Frankl died in 1997.

John Boyne is the author of five novels for young readers, including The Boy in the Striped Pajamas, a New York Times #1 best seller that was made into a feature film. His novels have been published in more than fifty languages.
Praise For…
---
"Could be particularly resonant among adolescents struggling with issues of meaning and purpose in their lives, especially at a time when different forms of bullying (including cyber-bullying) are all too prevalent in schools, and hate speech and hate crimes targeting any number of groups are on the uptick...With this new YA edition, making Frankl's work available to younger audience, [these] lessons become part of the legacy from one generation to another. We're never too old—or too young—to learn, not just the importance of meaning, but the meaning of tolerance and meaningfulness."
—Psychotherapy Networker

"This introduction will encourage young readers not only to read Man's Search for Meaning, but to pursue subjects of interest and keep memories alive."
—Association of Jewish Libraries

"Frankl still has much to teach the world."
—Meghan Cox Gurdon, Wall Street Journal

"Man's Search for Meaning is a book to read, to cherish, to debate, and one that will ultimately keep the memories of the victims alive."
—John Boyne, from the Foreword

"An enduring work of survival literature."
—New York Times

"One of the ten most influential books in America."
—Library of Congress