Why Are So Many Students of Color in Special Education?: Understanding Race and Disability in Schools (Paperback)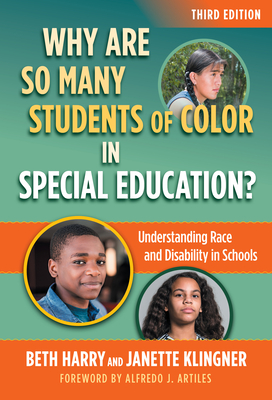 $52.58

Available in our Warehouse: Usually Ships in 3-8 Days
Description
---
Bringing to life the voices of children, families, and school personnel, this bestseller describes in detail the school climates and social processes that place many children of color at risk of being assigned inappropriate disability labels. Now in its third edition, this powerful ethnographic study examines the placement of Black and Hispanic students in the subjectively determined, high-incidence disability categories of special education. The authors present compelling narratives representing the range of experiences faced by culturally and linguistically diverse students who fall under the liminal shadow of perceived disability. This edition updates the literature on disproportionality, highlighting the deeply embedded and systemic nature of this decades-old pattern in which reforms represent mere shifts across disability categories, while disproportionality remains. Applying lenses of cultural-historical and critical disability theories, this edition expands on the authors' previous theoretical insights with updated recommendations for improving educational practice, teacher training, and policy renewal.
Book Features:
A unique examination of the school-based contributors to disproportionality based on research conducted in a large, culturally diverse school district.
Holistic views of the referral and placement process detailing students' trajectories across 4 years from initial instruction to referral, evaluation, and placement in special education.
An update on the patterns and literature related to disproportionality.
Analysis of the cultural-historical nature of disproportionality and the socially constructed nature of the high-incidence disability categories.
Recommendations for changing the conceptualization of children's learning difficulties, moving away from the presumption of children's intrinsic deficits toward evaluations based on human variation.
About the Author
---
Beth Harry is a professor emerita of special education in the Department of Teaching and Learning at the University of Miami. She is also the founder of the Immortelle Centre for Special Education in Port of Spain, Trinidad. Janette Klingner (deceased) was a professor at the University of Colorado, president-elect for the Council for Exceptional Children (CEC), and a vice-president for the International Academy for Research in Learning Disabilities.