Making Schools Work: Bringing the Science of Learning to Joyful Classroom Practice (Paperback)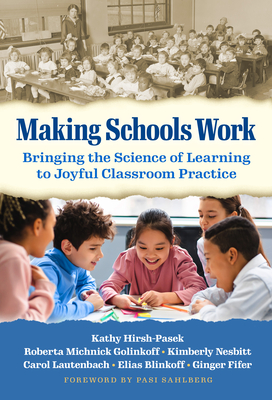 $47.18

Available in our Warehouse: Usually Ships in 3-8 Days
Description
---
If we teach in the way that human brains learn, both students and their teachers will thrive This book aligns evidence from the learning sciences on how and what students need to learn with classroom practice (pre-K-12). It demonstrates, with hands-on examples, how a change in educational mindset (rather than in curriculum) can improve student outcomes on both standardized tests and a breadth of 21st-century skills. Written collectively by classroom teachers, administrators, parents, and learning scientists, this book shows readers how to co-construct and reimagine an optimal educational system. Making Schools Work offers three case studies of schools, including a statewide system, that are all realizing a 6 Cs approach to learning focused on collaboration, communication, content, critical thinking, creative innovation, and confidence. The text documents the ever-evolving implementation process, as well as outcomes and the ongoing work of stakeholders. Readers can use this resource to create an education for all children that is culturally responsive, inclusive, effective, and fun.
Making Schools Work is not an ordinary book about re-imagining education. It is a theory, a plan, an implementation strategy, and a series of case studies to show you just how to change your educational mindset.
Book Features:
Shows how to apply the 6 Cs and playful learning principles to what goes on in the classroom every day.
Jointly written in accessible language by a team of experts from teachers to educational administrators, to museum educators to learning scientists.
Offers hands-on ways to reimagine classrooms without investing in new curricula.
Puts teachers in the driver's seat, reminding them of why they teach.
Provides culturally responsive, inclusive, effective, and fun strategies.
Offers children the possibility of learning the skills they will need for 21st-century success.
About the Author
---
Kathy Hirsh-Pasek is a professor of psychology at Temple University and a senior fellow at the Brookings Institution. Roberta MichnickGolinkoff is the Unidel H. Rodney Sharp Professor of Education at the University of Delaware. Kimberly Nesbitt is an associate professor in the Department of Human Development and Family Studies at the University of New Hampshire. Carol Lautenbach is assistant superintendent for teaching and learning design in the Godfrey-Lee Public Schools (Wyoming, MI). Elias Blinkoff is a graduate student in developmental psychology at Temple University. Ginger Fifer is a past teacher and school administrator at Friends' Central School (Wynnewood, PA).