The Vietnam War: A Graphic History (Hardcover)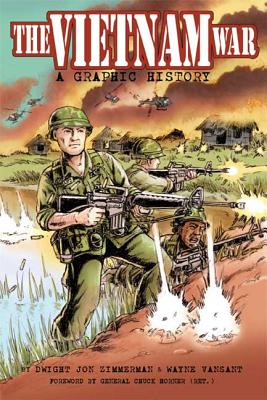 $22.00

Available in our Warehouse: Usually Ships in 3-8 Days
Description
---
A graphically told history of the Vietnam War, interweaving U.S. political and cultural history with the military history of the war.

When Senator Edward Kennedy declared, "Iraq is George Bush's Vietnam," everyone understood. The Vietnam War has become the touchstone for U.S. military misadventures—a war lost on the home front although never truly lost on the battlefront. During the pivotal decade of 1962 to 1972, U.S. involvement rose from a few hundred advisers to a fighting force of more than one million. This same period saw the greatest schism in American society since the Civil War, a generational divide pitting mothers and fathers against sons and daughters who protested the country's ever-growing military involvement in Vietnam. Meanwhile, well-intentioned decisions in Washington became operational orders with tragic outcomes in the rice paddies, jungles, and villages of Southeast Asia.

Through beautifully rendered artwork, The Vietnam War: A Graphic History depicts the course of the war from its initial expansion in the early 1960s through the evacuation of Saigon in 1975, and what transpired at home, from the antiwar movement and the assassinations of Robert Kennedy and Martin Luther King Jr. to the Watergate break-in and the resignation of a president.
About the Author
---
DWIGHT JON ZIMMERMAN has written extensively on military-history subjects for American Heritage, the Naval Institute Press, Vietnam Magazine, and numerous military-themed publications. His books include The Hammer and the Anvil and The Vietnam War: A Graphic History. He lives in Brooklyn, New York.

Wayne Vansant is the illustrator of The 'Nam and The Vietnam War: A Graphic History, among many other works. He lives in Mableton, Georgia.

CHUCK HORNER is a retired United States Air Force Four-Star General who flew in combat during the Vietnam War.
Praise For…
---
"Zimmerman and Vansant do a memorable job . . . A painstaking and even-handed tour of the politics and the strategic mistakes, the battles and the protests, the lives lost and the lessons learned." —The Arizona Republic

"This book has not only answered so many questions for me, but it has encapsulated the entire scope of the war into such easily digested segments without ever once feeling pedantic. I'm loving it for being so ambitious and respecting it for accomplishing it with such aplomb. I would have that what writer Dwight Jon Zimmerman and artist Wayne Vansant have done would be incredibly difficult, but they make it look quite easy." —John Hogan, Graphic Novel Reporter

"Zimmerman's writing and Vansant's inkwash portraits and landscapes clearly lay out important stages of the war from an entirely U.S. point of view . . . the author and illustrator do an excellent job of taking readers through the military decisions and actions of the U.S. and North Vietnam." —Suzi Steffen, Eugene Weekly

"I've waited years for a graphic novel like this--an historic account of the Vietnam War--and Dwight Jon Zimmerman and Wayne Vansant expertly deliver it! Over the years pop culture has dealt with Vietnam artistically, mainly in film, offering personalized perspectives of this troubling time. The Vietnam War: A Graphic History instead is focused on the facts, and the actual war itself--which is an incredibly gripping tale. With the state of the world today, the lessons of Vietnam are more relevant than ever before, making The Vietnam War: A Graphic History a must-read graphic novel for all ages!" —Jim Salicrup, Papercutz Editor-in-Chief and Museum of Comic and Cartoon Art Trustee

"Zimmerman and Vansant lead the reader though the military, political and social history of an incredibly complex topic. They show the North Vietnamese as well as the American viewpoints, and the successes and failures of both sides. No one book can properly tell the history of the Vietnam war, but Mr. Zimmerman and Mr. Vansant's graphic history is a valuable introduction to the conflict." —Larry Bond, bestselling author and game designer of Harpoon

"The Vietnam War: A Graphic History is an innovative way to present a complex period in American history. Using actual dialogue with illustrations of the personalities involved, it brings the people and the events to life." —Philip Caputo, author of A Rumor of War

"Dwight Zimmerman and Wayne Vansant treat the complicated and controversial history of America's war in Vietnam with clarity and sensitivity in this graphic history. For those new to the story, it is a concise yet comprehensive and vivid overview; for those who remember the war, it is a stunning retrospective." —Craig L. Symonds, author of Lincoln and His Admirals

"Dwight Jon Zimmerman and Wayne Vansant have created a truly graphic history of America's tragic misadventure in Vietnam. They show the mistaken assumptions, failed policies, and hubris that doomed American efforts to prevent a Communist takeover of South Vietnam. At the same time they maintain a balanced presentation that leans to neither the pro-war nor anti-war side in this country's most divisive conflict." —James M. McPherson , author of Battle Cry of Freedom

"An emotionally moving combination of graphics and text clearly describing the events that led up to a war and years of bloodshed, which threatened the unity of the American people." —Joe Kubert, author of Fax from Sarajevo and Yossel

"You are not likely to find a more balanced, comprehensive, and accurate--yet marvelously accessible--overview of the Vietnam War than Dwight Zimmerman's and Wayne Vansant's graphic history. If you want a good introduction to that war, don't go to Wikipedia; go here." —Tony Koltz, coauthor of The Battle for Peace