Dmitri Shostakovich: A Catalogue, Bibliography, and Discography (Hardcover)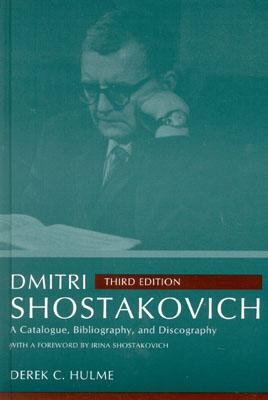 $214.65
This item is not currently available to order.
Description
---
Dmitri Shostakovich (1906-75) was one of the greatest composers of the twentieth century, and the first major Soviet composer. He is also a figure of some controversy, following the publication in the West in 1979 of his memoirs Testimony. Derek Hulme's catalogue of the composer's works was first published privately in 1982. This third edition adds greatly to the information contained therein and brings it up to date. For each numbered work and all the known unnumbered compositions, Hulme provides a short description of the piece, and lists date of composition, dedicatee, forces the work employs, location of the autograph score, duration, arrangements of the work, premiere(s), an extensive list of recordings, and reference to bibliography items where the piece is discussed in any detail. The entries are presented in order of opus number, with unnumbered compositions inserted appropriately within this chronological sequence. The catalogue is supplemented by a series of appendices, which includes a chronological chart of the composer's life and work and a discussion of the monogram DSCH, a musical motif based on his name that permeates his compositions.
About the Author
---
Derek Hulme is a jet engine designer and part-time dance band trumpeter. He has published numerous articles and recording notes on Shostakovich.