Goodnight, Goodnight Construction Site (Hardcover Books for Toddlers, Preschool Books for Kids) (Hardcover)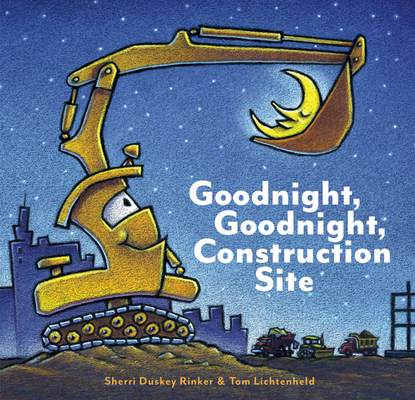 Description
---
The #1 New York Times bestselling children's book

"A standout picture book, especially for those who like wheels with their dreams." —Booklist, starred review

As the sun sets behind the big construction site, all the hardworking trucks get ready to say goodnight. One by one, Crane Truck, Cement Mixer, Dump Truck, Bulldozer, and Excavator finish their work and lie down to rest—so they'll be ready for another day of rough and tough construction play!

• Author Sherri Duskey Rinker's sweet rhyming text soothes little ones into a peaceful rest
• Full of irresistible artwork by illustrator Tom Lichtenheld
• Goodnight, Goodnight, Construction Site is the perfect read-aloud

This popular, timeless nighttime story continues to delight families everywhere!

• Ideal for children ages 3 to 5 years old
• Great for young construction fans
• This adorable hardcover bedtime book is a go-to gift for any occasion
About the Author
---
Sherri Rinker is a graphic designer and is constantly inspired by the passions of her two young boys.

Tom Lichtenheld loves drawing pictures and telling silly stories. His books include the best-selling Duck! Rabbit!, Everything I Know About Cars, and Shark vs. Train. He lives in Geneva, Illinois.
Praise For…
---
"Rinker's rhythmic verse reinforces the vehicles' love of their work (Dump Truck "moves the dirt/ from place to place,/ Then dumps it with a happy face") and, like Lichtenheld's art, deftly balances the story's boisterous and drowsy elements. Truck lovers will happily nod off to the strains of this read-aloud." - Publishers Weekly

"Perfect for sleepers who are more fascinated by the motorized and muddy than by the soft and fluffy. A certain subset of parents and grandparents will see this book and shout, "At last!" - Chicago Tribune

"An ideal bedtime book for all those truck-loving toddlers and preschoolers! ...If there's a truck fan in your family, this is a great pick... Drive it to the top of your pile of story time truck reads as well." - Waking Brain Cells blog

"A delightful debut." - The New York Times

"Gentle rhymes and soft-colored pictures of favorite trucks are the perfect way to lull any child into sweet dreams." - Bookmarkable blog,

"For all those youngsters who feel coziest with a cement mixer jammed into an armpit and a dump truck wedged at their feet, Goodnight, Goodnight, Construction Site might be the best bedtime book ever." - Hampton Roads

"Lichtenheld's detailed and textured illustrations, rendered in wax oil pastels on vellum paper, perfectly complement the fun, rhyming text, cleverly personifying each truck with expressive eyes and amusing details. ...Recommended for vehicle- and bedtime-themed storytimes, this is sure to be a hit with truck-loving preschoolers." - School Library Journal, starred review

" A standout picture book, especially for those who like wheels with their dreams" - Booklist, starred review

"This book is a treasure." -Testy Yet Trying blog

"If your little reader is mad for trucks, you must get this gem of a book!" -SweetOnBooks.com

"A fast-favorite for your littlest builder."-- Reader's Digest

"Your child WILL become obsessed and incessantly request Goodnight, Goodnight, Construction Sitenight after night." -Good Housekeeping

"A great read-aloud story as you are settling your child in for the night." -About.com

" Truck-loving kids will respond to this take on settling down to sleep. " - The Horn Book Guide
We appreciate your continued support!
If you would like to make a donation to help us through CLICK HERE.