Those Angry Days: Roosevelt, Lindbergh, and America's Fight Over World War II, 1939-1941 (Paperback)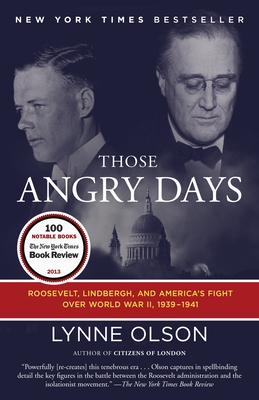 $17.00
Available in our Warehouse: Usually Ships in 1-5 Days
Description
---
NEW YORK TIMES BESTSELLER • NAMED ONE OF THE BEST BOOKS OF THE YEAR BY THE NEW YORK TIMES BOOK REVIEW AND KIRKUS REVIEWS

From the acclaimed author of Citizens of London comes the definitive account of the debate over American intervention in World War II—a bitter, sometimes violent clash of personalities and ideas that divided the nation and ultimately determined the fate of the free world.

At the center of this controversy stood the two most famous men in America: President Franklin D. Roosevelt, who championed the interventionist cause, and aviator Charles Lindbergh, who as unofficial leader and spokesman for America's isolationists emerged as the president's most formidable adversary. Their contest of wills personified the divisions within the country at large, and Lynne Olson makes masterly use of their dramatic personal stories to create a poignant and riveting narrative. While FDR, buffeted by political pressures on all sides, struggled to marshal public support for aid to Winston Churchill's Britain, Lindbergh saw his heroic reputation besmirched—and his marriage thrown into turmoil—by allegations that he was a Nazi sympathizer.

Spanning the years 1939 to 1941, Those Angry Days vividly re-creates the rancorous internal squabbles that gripped the United States in the period leading up to Pearl Harbor. After Germany vanquished most of Europe, America found itself torn between its traditional isolationism and the urgent need to come to the aid of Britain, the only country still battling Hitler. The conflict over intervention was, as FDR noted, "a dirty fight," rife with chicanery and intrigue, and Those Angry Days recounts every bruising detail. In Washington, a group of high-ranking military officers, including the Air Force chief of staff, worked to sabotage FDR's pro-British policies. Roosevelt, meanwhile, authorized FBI wiretaps of Lindbergh and other opponents of intervention. At the same time, a covert British operation, approved by the president, spied on antiwar groups, dug up dirt on congressional isolationists, and planted propaganda in U.S. newspapers.

The stakes could not have been higher. The combatants were larger than life. With the immediacy of a great novel, Those Angry Days brilliantly recalls a time fraught with danger when the future of democracy and America's role in the world hung in the balance.

Praise for Those Angry Days

"Powerfully [re-creates] this tenebrous era . . . Olson captures in spellbinding detail the key figures in the battle between the Roosevelt administration and the isolationist movement."—The New York Times Book Review

"Popular history at its most riveting . . . In Those Angry Days, journalist-turned-historian Lynne Olson captures [the] period in a fast-moving, highly readable narrative punctuated by high drama."—Associated Press
About the Author
---
Lynne Olson is the author of Citizens of London: The Americans Who Stood with Britain in its Darkest, Finest Hour; Troublesome Young Men: The Rebels Who Brought Churchill to Power and Helped Save England; and Freedom's Daughters: The Unsung Heroines of the Civil Rights Movement from 1830 to 1970, and co-author of two other books. She lives with her husband in Washington, D.C.
Praise For…
---
"Powerfully [re-creates] this tenebrous era . . . Olson captures in spellbinding detail the key figures in the battle between the Roosevelt administration and the isolationist movement."—The New York Times Book Review

"In Those Angry Days, journalist-turned-historian Lynne Olson captures [the] period in a fast-moving, highly readable narrative punctuated by high drama. It's . . . popular history at its most riveting, detailing what the author rightfully characterizes as 'a brutal, no-holds-barred battle for the soul of the nation.' It is sure to captivate readers seeking a deeper understanding of how public opinion gradually shifted as America moved from bystander to combatant in the war to preserve democracy."—Associated Press
 
"Filled with fascinating anecdotes and surprising twists . . . With this stirring book, Lynne Olson confirms her status as our era's foremost chronicler of World War II politics and diplomacy."—Madeleine K. Albright

"Olson has shone a dramatic light on the complexities of the issue and skillfully portrayed the protagonists of an almost forgotten crisis in American history."—Newsweek/The Daily Beast
 
"[An] absorbing chronicle . . . [Olson] doesn't so much revisit a historical period as inhabit it; her scenes flicker as urgently as a newsreel. While highlighting Lindbergh and FDR as its stars, Those Angry Days embraces a cast of characters far beyond the book's title characters."—The Christian Science Monitor
 
"Masterfully describes America's conflicting opinions before Pearl Harbor . . . a comprehensive take on another era of angry divisions."—Richmond Times-Dispatch
 
"Spanning the years 1939 to 1941, Lynne Olson's masterful book relives American's debate over whether to go to war—a bitter clash personified by FDR and Charles Lindbergh."—Parade
 
"A fully fleshed-out portrait of the battle between the interventionists and isolationists in the eighteen months leading up to Pearl Harbor . . . a vivid, colorful evocation of a charged era."—Kirkus Reviews
 
"Humanizing public events with private strains . . . Olson delivers a fluid rendition of a tempestuous time."—Booklist
 
"[Olson] manages to keep her complex, character-filled story on keel as she describes the forces bearing down on FDR's administration while the world slipped into war. . . . Delicious tales abound."—Publishers Weekly


From the Hardcover edition.