Time After Time: A Novel (Hardcover)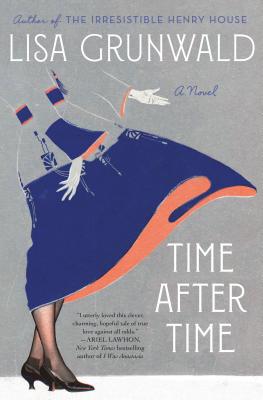 Staff Reviews
---
Grand Central Terminal is as much a character as Joe or Nora in this fascinating and moving not-quite-ghost story. Nora died in a subway accident in 1925 but keeps returning to Grand Central in the corporeal form she had in 1925. Joe, a leverman, meets her on one, then two, then three returns and falls hopelessly in love with this woman who never ages and disappears for years at a time. Part of the tension in this story is trying to figure out what a happy ending could possibly look like. Against all odds, Grundwald delivers one along with a final twist that made me happy.
— Lisa
Description
---
A magical love story, inspired by the legend of a woman who vanished from Grand Central Terminal, sweeps readers from the 1920s to World War II and beyond. "Readers who enjoyed The Time Traveler's Wife will be enchanted."—Publishers Weekly

"I utterly loved this clever, charming, hopeful tale of true love against all odds."—Ariel Lawhon, New York Times bestselling author of I Was Anastasia

NAMED ONE OF THE MOST ANTICIPATED BOOKS OF THE SUMMER BY TIMEAND BOOKPAGE

On a clear December morning in 1937, at the famous gold clock in Grand Central Terminal, Joe Reynolds, a hardworking railroad man from Queens, meets a vibrant young woman who seems mysteriously out of place. Nora Lansing is a Manhattan socialite whose flapper clothing, pearl earrings, and talk of the Roaring Twenties don't seem to match the bleak mood of Depression-era New York. Captivated by Nora from her first electric touch, Joe despairs when he tries to walk her home and she disappears. Finding her again—and again—will become the focus of his love and his life.

Nora, a fiercely independent aspiring artist, is shocked to find she's somehow been trapped, her presence in the terminal governed by rules she cannot fathom. It isn't until she meets Joe that she begins to understand the effect that time is having on her, and the possible connections to the workings of Grand Central and the solar phenomenon known as Manhattanhenge, when the sun rises or sets between the city's skyscrapers, aligned perfectly with the streets below.

As thousands of visitors pass under the famous celestial blue ceiling each day, Joe and Nora create a life unlike any they could have imagined. With infinite love in a finite space, they take full advantage of the "Terminal City" within a city, dining at the Oyster Bar, visiting the Whispering Gallery, and making a home at the Biltmore Hotel. But when the construction of another landmark threatens their future, Nora and Joe are forced to test the limits of freedom and love.

Delving into Grand Central Terminal's rich past, Lisa Grunwald crafts a masterful historical novel about a love affair that defies age, class, place, and even time.

NAMED ONE OF THE BEST BOOKS OF JUNE BY THE CHRISTIAN SCIENCE MONITOR AND THE DAILY BREAK

"I'll never again set foot in Grand Central Terminal without looking over my shoulder for Nora and Joe, or marveling at the station itself—a backdrop as intriguing as the love story that unfolds beneath its star-studded ceiling."—Georgia Hunter, New York Times bestselling author of We Were the Lucky Ones
About the Author
---
Lisa Grunwald is the author of the novels The Irresistible Henry House, Whatever Makes You Happy, New Year's Eve, The Theory of Everything, and Summer. Along with her husband, Reuters editor in chief Stephen J. Adler, she edited the anthologies The Marriage Book, Women's Letters, and Letters of the Century. Grunwald is a former contributing editor to Life and former features editor of Esquire. She lives in New York City.
Praise For…
---
"In lively prose set against the fascinating history of Grand Central, Grunwald's characters quickly solve the mystery of Nora's disappearance. But making her stay is harder: she can never go more than a stone's throw past the terminal. . . . It's familiar territory to consider the lengths to which we'd go for love. But Grunwald asks a compelling question: How long would we stay in one place?"—Time

"Time After Time doesn't just re-create the lost New York of the 1920s to 1940s, it inhabits it—and so will the reader, in the company of the book's wonderful characters."—Daniel Okrent, author of Last Call and The Guarded Gate

"Here is a glorious novel to savor and return to again and again. I fell in love with Joe and Nora, star-crossed lovers from a time when women wore gloves, men wore hats and a train ticket could change the course of your life. The spectacular Lisa Grunwald has written a classic story of fate, true love, art, and chance with truth and beauty. You will want to share it with every reader you know."—Adriana Trigiani, bestselling author of Tony's Wife

"[A] great read . . . Time After Time is set in New York City's Grand Central Terminal and blends time travel, history, and epic romance."―Woman's Day

"Fans of historical fiction will savor Time After Time by Lisa Grunwald. . . . An unforgettable tale of otherworldly romance, Grunwald's book is a true page-turner. Pick up a copy and prepare to be transported."—Julie Hale, BookPage

"Grunwald crafts a delightful and engaging love story that unfurls alongside the fascinating history of Grand Central Terminal. . . . Despite the fantastical nature of Nora's life, Grunwald never allows the supernatural to overpower the characters, their story, or the history swirling around them. Their love flourishes irrespective of time. Recommended."—Historical Novels Review

"An ingenious and winsome novel."—Kirkus Reviews
 
"A satisfying supernatural romance about lovers brought together across time . . . Readers who enjoyed Audrey Niffenegger's The Time Traveler's Wife will be enchanted."—Publishers Weekly

"Fans of time travel romances like Audrey Niffenegger's The Time Traveler's Wife and Beatriz Williams's Overseas will find much to enjoy."—Booklist

"A World War II–set historical with a sprinkle of magic."—Library Journal

"Lisa Grunwald has written my favorite kind of novel. Set within the wondrous boundaries of Grand Central Terminal, Time After Time is the story of Joe and Nora, the love they find amidst impossible circumstances, their fight to stay together, and the great sacrifices they make along the way. I utterly loved this clever, charming, hopeful tale of true love against all odds."—Ariel Lawhon, New York Times bestselling author of I Was Anastasia