Catching Dreams: My Life in the Negro Baseball Leagues (Sports and Entertainment) (Paperback)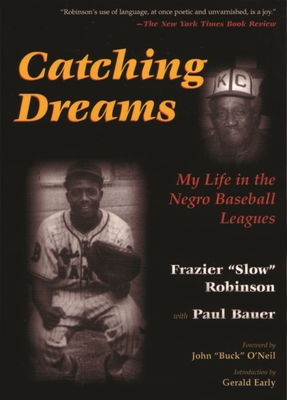 Description
---
In a rare memoir about the Negro Leagues and its celebrated players, Frazier "Slow" Robinson offers an inspiring and often entertaining view of the black baseball diamond through a catcher's mask. In 1939, at the age of 29--after playing professional baseball for twelve years--Frazier Robinson caught the legendary Satchel Paige in barnstorming games from New Orleans to Walla Walla.
Robinson played several more seasons in the Negro Leagues before finishing his career in Canada. While his career was a solid one, it was less spectacular than that of his friend and Hall-of-Famer, Satchel Paige, and so more typical of the experience of most Negro Leaguers. Richly embroidered with the threads of black society and of life as a black athlete in a racially divided nation, Robinson recounts his long career with the skill and ease of a natural storyteller. He covers, in remarkable detail, the personal perspective of the men, the teams, and the times that
shaped this uniquely American subculture. From playing catcher for obscure industrial teams to barnstorming with Satchel Paige, he chronologically traces his nationwide path through the 1920s, '30s, '40s, and early '50s. The Foreword by John "Buck" O'Neil and Introduction by Gerald Early place Robinson squarely in the world of sports, African American culture, and American history.
About the Author
---
Frazier "Slow" Robinson played professional baseball in parts of four decades beginning in the 1920s. He caught for Hall-of-Fame pitchers Satchel Paige and Leon Day and played with many other legendary Negro Leaguers. He died in 1997. Paul Bauer is a rare book dealer specializing in baseball. He lives in Kent, Ohio.