Power Politics: Trump and the Assault on American Democracy (Hardcover)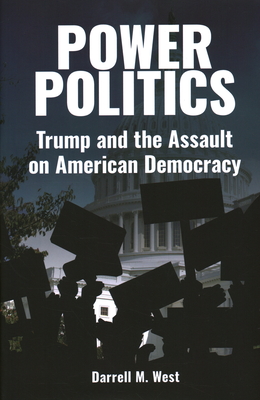 $26.99
This item is not currently available to order.
Description
---
Curing the causes and consequences of Trumpism
It's no secret that the United States faces extraordinary political and societal challenges, even as it recovers from the COVID-19 pandemic. Political polarization and extremism are the most apparent symptoms, resulting from long-term economic and social inequities as well as a toxic information ecosystem.
It is easy to blame Donald Trump for the sad state of American democracy. After all, he abused his executive authority, spread false claims, and even incited violence. But Trumpism is almost certain to outlast Trump himself. The grievances he exploited and the aggrieved to whom he appealed existed well before he became president and likely will endure after he is gone from the political scene.
The current political atmosphere is poisonous for those who operate on the basis of facts, reason, and logic. It is time to step back from this dangerous precipice and reflect on the causes of the serious threats to American democracy, procedural justice, and a reason-based society. With polarization now entrenched and authoritarianism gaining strength, no one should assume that facts somehow will triumph over falsehoods and reason will prevail over emotion.
Drawing on his personal experiences in the D.C. policy world, Darrell West offers advice for protecting people, organizations, and the country as a whole from our contemporary challenges. This book makes the risks to democracy understandable by explaining specific threats and offering concrete ideas for ameliorating them. It will appeal to anyone interested in American politics, democracy, elections, mass media, technology, and governance.
About the Author
---
Darrell M. West is vice president of the Governance Studies program at the Brookings Institution. He is the author of Divided Politics, Divided Nation: Hyperconflict in the Trump Era. West lives in Washington, DC.