Lowcountry Hurricanes: Three Centuries of Storms at Sea and Ashore (Wormsloe Foundation Publication #12) (Paperback)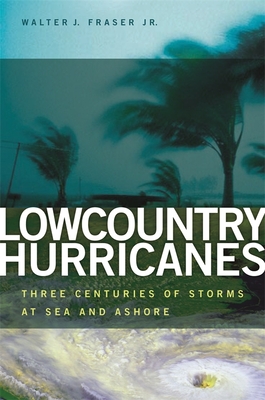 $26.95

Available in our Warehouse: Usually Ships in 3-8 Days
Other Books in Series
This is book number 12 in the Wormsloe Foundation Publication series.
Description
---
At once sobering and thrilling, this illustrated history recounts how, for the past three hundred years, hurricanes have altered lives and landscapes along the Georgia-South Carolina seaboard. A prime target for the fierce storms that develop in the Atlantic, the region is especially vulnerable because of its shallow, gradually sloping sea floor and low-lying coastline.
With an eye on both natural and built environments, Fraser's narrative ranges from the first documented storm in 1686 to recent times in describing how the lowcountry has endured some of the severest effects of wind and water. This chronology of the most notable lowcountry storms is also a useful primer on the basics of hurricane dynamics.
Fraser tells how the 800-ton Rising Sun foundered in open water near Charles Town during the hurricane of 1700. About one hundred persons were aboard. All perished. Drawing on eyewitness accounts, he describes the storm surge of an 1804 hurricane that submerged most of Tybee Island and swept over the fort on nearby Cockspur Island, drowning soldiers and civilians. Readers may have their own memories of Hurricanes Andrew, Opal, and Hugo. Although hurricanes frequently lead to significant loss of life, Fraser recounts numerous gripping instances of survival and rescue at sea and ashore.
The author smoothly weaves the lowcountry's long social, political, and economic history with firsthand reports and data accumulated by the National Weather Service and the National Oceanic and Atmospheric Administration. Generously illustrated with contemporary and historical photographs, this is a readable and informative resource on one of nature's most awesome forces.
About the Author
---
WALTER J. FRASER JR. is a professor emeritus in the Department of History at Georgia Southern University. His many books include Savannah in the Old South (Georgia), Portraits of Conflict: A Photographic History of Georgia in the Civil War, and Charleston! Charleston!
Praise For…
---
"Engaging stories and good data about bad weather, all with the long view in mind. Fraser's book is a fine primer to lowcountry hurricanes."--Mart A. Stewart, author of "What Nature Suffers to Groe": Life, Labor, and Landscape on the Georgia Coast, 1680-1920

"Fraser has assembled an intriguing record of lowcountry hurricane history. It serves as a reminder of how vulnerable our coastal communities really are."--Jay Barnes, author of Florida's Hurricane History and North Carolina's Hurricane History

"After reading Fraser's exhaustive study of low country hurricanes, one cannot be helped but to be impressed by the destruction these storms have wrought. This is a must read for anyone who wishes to understand how hurricanes have helped to shape the culture and history of the region. More importantly, his work is warning of future human misery that will be caused along the Georgia and South Carolina coast unless we prepare with due respect for the power of these monsters."--David Emory Stooksbury, Georgia State Climatologist and Associate Professor Engineering and Atmospheric Sciences at the University of Georgia

"Fraser's thorough, well-researched history . . . chronicles the damage [and] the human toll, wrought by more than eighty storms."--Savannah Morning News

"A useful history explaining why weather has played a critical role in defining a region . . . [Fraser] shines in his detailed descriptions of key hurricanes. Events, like the 1822 hurricane, read as intriguing narratives to describe the devastation that such powerful natural disasters could produce. . . . This book contributes to our understanding of development ethics in the twenty-first century and a broader interpretation of natural disasters' impact on society."--H-Net

"A thorough and useful chronicle of tropical storms recorded along the Atlantic, 'Lowcountry' coast of Georgia and South Carolina since the latter decades of the seventeenth century. . . . Lowcountry Hurricanes is also just a plain old good read and will have appeal to anyone interested in the fascinating place of weather and climate in the region's cultural history."--Southeastern Geographer

"Fraser brings the unique perspective of viewing hurricane events and impacts as a historian, particularly in relation to environmental history. . . . The book clearly connects how hurricanes affect the landscape with how they impact people, with references to many prominent people in Georgia and South Carolina history."--Bulletin of the American Meteorological Society