The Human Search: Howard Thurman and the Quest for Freedom. Proceedings of the Second Annual Thurman Convocation (Martin Luther King #1) (Hardcover)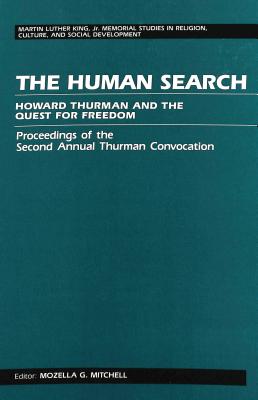 $84.98
This item is not currently available to order.
Description
---
This volume is a compilation of the papers, lectures, criticisms, and speeches presented at the Second Annual Convocation of Thurman Scholars. The authors are critics who have written and published essays and books on Thurman in the past decade since his death in 1981. Thurman was one of the foremost religionists - theologian, poet, philosopher, mystic, and scholar - of the twentieth century, and the leading African-American religious practitioner and writer. Attracting numerous followers and admirers from all races, cultures, religions, and ethnic groups, he exerted profound influence on the religious thinkers and specialists of his time. The critical works in this volume attempt to assess the value of Thurman's central focus in his life and works: the human search for God.
About the Author
---
The Author: Mozella G. Mitchell is an Associate Professor of Religion at the University of South Florida. She received her B.A. in English from leMoyne College, Memphis; an M.A. in English from the University of Michigan; an M.A. in Religious Studies from Colgate Rochester Divinity School; and her Ph.D. in Literature and Theology from Emory University.