Sick Building Syndrome and the Problem of Uncertainty: Environmental Politics, Technoscience, and Women Workers (Paperback)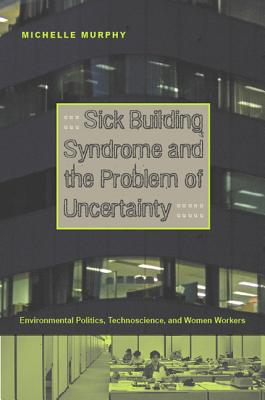 $36.38

Available in our Warehouse: Usually Ships in 3-8 Days
Description
---
Before 1980, sick building syndrome did not exist. By the 1990s, it was among the most commonly investigated occupational health problems in the United States. Afflicted by headaches, rashes, and immune system disorders, office workers-mostly women-protested that their workplaces were filled with toxic hazards; yet federal investigators could detect no chemical cause. This richly detailed history tells the story of how sick building syndrome came into being: how indoor exposures to chemicals wafting from synthetic carpet, ink, adhesive, solvents, and so on became something that relatively privileged Americans worried over, felt, and ultimately sought to do something about. As Michelle Murphy shows, sick building syndrome provides a window into how environmental politics moved indoors.
Sick building syndrome embodied a politics of uncertainty that continues to characterize contemporary American environmental debates. Michelle Murphy explores the production of uncertainty by juxtaposing multiple histories, each of which explains how an expert or lay tradition made chemical exposures perceptible or imperceptible, existent or nonexistent. She shows how uncertainty emerged from a complex confluence of feminist activism, office worker protests, ventilation engineering, toxicology, popular epidemiology, corporate science, and ecology. In an illuminating case study, she reflects on EPA scientists' efforts to have their headquarters recognized as a sick building. Murphy brings all of these histories together in what is not only a thorough account of an environmental health problem but also a much deeper exploration of the relationship between history, materiality, and uncertainty.
About the Author
---
Michelle Murphy is Assistant Professor in the History Department and the Women and Gender Studies Institute at the University of Toronto.