The Art of Polymer Clay Millefiori Techniques: Projects and Inspiration for Creative Canework (Paperback)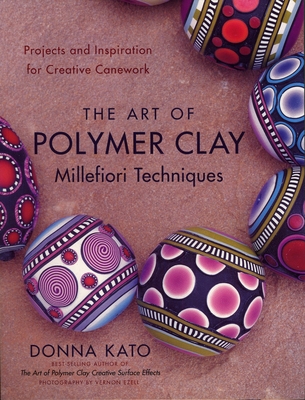 $25.29
This item is not currently available to order.
Description
---
A thousand and one ideas for making beautiful polymer clay millefiori. In Venetian glassmaking, slender rods of molten glass are shaped, then cut to reveal amazingly detailed patterns: flowers, geometric shapes, dancing colors. These slices are called millefiori, "thousand flowers," because they form a carpet of flowers when placed side by side. Now celebrity author Donna Kato shows crafters exactly how to re-create these intricate, fascinating designs in polymer clay. The Art of Polymer Clay Millefiori Techniques reveals the entire process: how to work with the polymer clay, the basics of planning and creating a cane, and using color effectively. Dozens of canes, from simple to simply stunning, are included, and everything is clearly explained and illustrated with full-color photos, the Donna Kato way. Throughout the book, examples of stunning work by such millefiori artists as Kathy Amt, Pier Voulkos, and Kathleen Dustin provide inspiration. There must be a thousand ways to make beautiful millefiori . . . explore them all in The Art of Polymer Clay Millefiori Techniques.
About the Author
---
Donna Kato is one of the world's best-selling authors on polymer clay crafts. Her books The Art of Polymer Clay and The Art of Polymer Clay Creative Surface Effects have sold more than 110,000 copies. Her Kato Polyclay is available across the country. She and her husband, photographer Vernon Ezell, live in Florissant, CO.

Visit her on the web at www.katopolyclay.com.