Overground Railroad (Hardcover)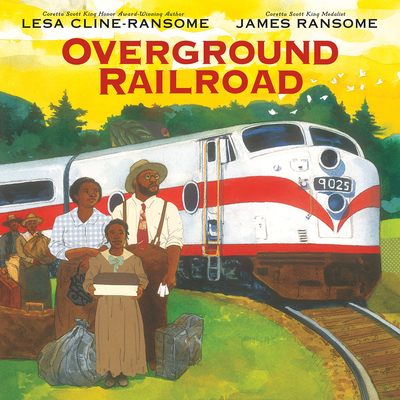 Description
---
A window into a child's experience of the Great Migration from the award-winning creators of Before She Was Harriet and Finding Langston.

Climbing aboard the New York bound Silver Meteor train, Ruth Ellen embarks upon a journey toward a new life up North-- one she can't begin to imagine. Stop by stop, the perceptive young narrator tells her journey in poems, leaving behind the cotton fields and distant Blue Ridge mountains.

Each leg of the trip brings new revelations as scenes out the window of folks working in fields give way to the Delaware River, the curtain that separates the colored car is removed, and glimpses of the freedom and opportunity the family hopes to find come into view. As they travel, Ruth Ellen reads from Narrative of the Life of Frederick Douglass, reflecting on how her journey mirrors her own-- until finally the train arrives at its last stop, New York's Penn Station, and the family heads out into a night filled with bright lights, glimmering stars, and new possiblity.

James Ransome's mixed-media illustrations are full of bold color and texture, bringing Ruth Ellen's journey to life, from sprawling cotton fields to cramped train cars, the wary glances of other passengers and the dark forest through which Frederick Douglass traveled towards freedom. Overground Railroad is, as Lesa notes, a story "of people who were running from and running to at the same time," and it's a story that will stay with readers long after the final pages.


An American Library Association Notable Children's Book
A New York Public Library Best Book of the Year
A School Library Journal Best Book of the Year
A Junior Library Guild Selection
Named a Best Picture Book by the African American Children's Book Project
A Booklist Editor's Choice
About the Author
---
Lesa Cline-Ransome has written many books for children, including Before She Was Harriet, which received five starred reviews, a Coretta Scott King Honor, and a Christopher Award, and her debut middle grade novel Finding Langston, which received a Coretta Scott King Honor and five starred reviews. She lives in upstate New York with her husband and collaborator, illustrator James E. Ransome.

James E. Ransome's numerous accolades include a Coretta Scott King Medal, three Coretta Scott King Honors, and an NAACP Image Award. He lives in upstate New York with his wife and collaborator, writer Lesa Cline-Ransome.
Praise For…
---
★ "Warm portraiture and vivid writing by married collaborators Cline-Ransome and Ransome (Before She Was Harriet) mark this story of a family's journey north during the Great Migration. . . . The journey is seen through the eyes of richly developed characters drawn with care and sympathy."—Publishers Weekly, Starred Review

★ "Ransome's watercolor-and-collage illustrations effectively capture both the historical setting and the trepidation of a family who though not enslaved, nevertheless must escape as if they were. Cotton bolls throughout the images accentuate cotton's economic dominance in the sharecropping system. A beautiful portrayal of a historic and arduous family journey northward."—Kirkus Reviews, Starred Review

★ "Ransome's beautiful illustrations feature detailed and expressive faces and layers of bright patterned paper that add colorful accents to the muted palette. . . . An author's note gives readers historical context, placing the story in the era of the Great Migration, inspired by just one story of the many who were, 'running from and running to at the same time.'"—School Library Journal, Starred Review 
 
★ "Cline-Ransome's carefully cadenced ragged-right prose, suitable for reading aloud or reading alone, offers sharply observed details . . . . James Ransome's line, watercolor, and collage scenes move fluidly from epic landscape scenes, often dotted with the deceptively beautiful cotton, to eloquent facial portraiture; the movement of the gleaming train through the landscapes is paralleled occasionally by glimpses of a young Frederick Douglass heading North on foot. There's something about the Great Migration that brings out talent"—The Bulletin of the Center for Children's Books, Starred Review
 
"A tour de force from a writer/illustrator duo that is a national treasure."— The Historical Novel Society
 

"Through handsome collage, pencil and watercolor illustrations and lyrical free verse, the family's hopeful journey to find better jobs, homes and rights shows readers a major moment in the large scope of African American history. . . . Young readers will likely be drawn in by the author's riff on a familiar phrase in the title, as well as the spare but poetic language in which Ruthie narrates her long day's journey"—Shelf Awareness

"Ruth Ellen is reading Narrative of the Life of Frederick Douglass on the train, and Cline-Ransome generalizes the details of Douglass's own escape to emphasize the similarities in the two situations . . . Ransome does an admirable job of setting mood as well as establishing time and place."—The Horn Book
We appreciate your continued support!
If you would like to make a donation to help us through CLICK HERE.