Jews and Genes: The Genetic Future in Contemporary Jewish Thought (Paperback)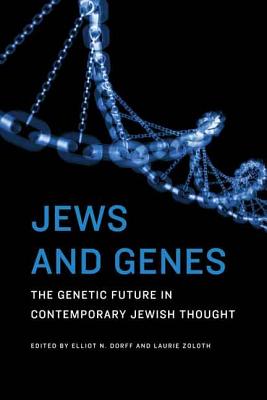 $45.50

Available in our Warehouse: Usually Ships in 3-8 Days
Description
---
Well aware of Jews having once been the victims of Nazi eugenics policies, many Jews today have an ambivalent attitude toward new genetics and are understandably wary of genetic forms of identity and intervention. At the same time, the Jewish tradition is strongly committed to medical research designed to prevent or cure diseases. Jews and Genes explores this tension against the backdrop of various important developments in genetics and bioethics—new advances in stem cell research; genetic mapping, identity, testing, and intervention; and the role of religion and ethics in shaping public policy.
 Jews and Genes brings together leaders in their fields, from all walks of Judaism, to explore these most timely and intriguing topics—the intricacies of the genetic code and the wonders of life, along with cutting-edge science and the ethical issues it raises.

About the Author
---
Elliot N. Dorff is rector and Sol and Anne Dorff Distinguished Service Professor of Philosophy at the American Jewish University in Los Angeles and past chair of the Society of Jewish Ethics. He is the author or editor of numerous award-winning books, including Matters of Life and Death: A Jewish Approach to Modern Medical Ethics (JPS, 1998).  Laurie Zoloth is a professor of religious studies and on the Jewish studies faculty at Weinberg College and is a professor of medical humanities and bioethics at the Feinberg School of Medicine, both at Northwestern University. She is the author or editor of six books, including The Ethics of Encounter: A Jewish Discussion of Social Justice. Mark S. Frankel is director of the Scientific Responsibility, Human Rights, and Law Program at the American Association for the Advancement of Science.
 

Praise For…
---
"As informed and informative as it is thoughtful and thought-provoking,
Jews and Genes: The Genetic Future in Contemporary Jewish Thought
is very highly recommended for community and academic library Judaic Studies, Genetics, and Bioethics reference collections and supplemental studies reading lists."—Willis M. Buhle,
Midwest Book Review
"Dorff and Zoloth have assembled contributions that shed light on Jews, biology, and genes that are engagingly revelatory for Jew and non-Jew alike."—Arthur L. Caplan, Drs. William F. and Virginia Connolly Mitty Professor of Bioethics and director of the Division of Medical Ethics at NYU Langone Medical Center
"A brilliant combination of science and philosophy that deepens one's awe for the genetics of life and demonstrates how insights from Jewish thought can help address the vexing questions that arise because of scientists' new capabilities to test for genes and alter them in the effort to prevent or cure disease."—Neil S. Wenger, director of the UCLA Health Ethics Center