So What's the Difference?: A Look at 20 Worldviews, Faiths and Religions and How They Compare to Christianity (Paperback)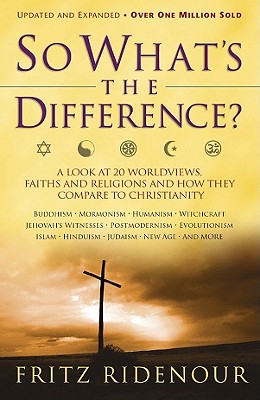 $14.99
This item is not currently available to order.
Description
---
So What's the Difference has been revised and updated for the 21st Century to help Christians better understand their own beliefs. A classic first released in 1967, this revision takes a current look at the answer to the question, "How does orthodox biblical Christianity differ from other faiths?"  In a straightforward, non-critical comparison, Fritz Ridenour explores and explains the basic tenets of 20 worldviews, religions and faiths, including Judaism, Islam, Hinduism, Buddhism, Jehovah's Witnesses, Christian Science, New Age and Mormonism. 
About the Author
---
FRITZ RIDENOUR is a favorite writer of readers around the world, with more than four million copies of his books in circulation. His books include "How to Be a Christian ""Without Being Religious" and "How to Be a Christian and Still Enjoy Life." Ridenour and his wife Jackie, live in Santa Barbara, California. They have three children and ten grandchildren.